LOS ANGELES, Calif. (August 4, 2021) – In an unprecedented commitment to college football bettors across America, Sports Gambling Podcast Network (SGPN) college gridiron expert Colby Dant is providing a pre-season forecast on every FBS football team, including recommendations on over/under regular season win total wagers on all.
The daunting initiative is underway with the podcast and transcription content available at www.sportsgamblingpodcast.com, home of the only independently owned and operated sports gambling media network that places a premium on entertainment value.  The predictive podcasts are most readily available on the SGPN app, downloadable at Apple's App Store,  the Google Play Store, and from www.SportsGamblingPodcast.com.
In concise but detailed 20-minute podcasts, Dant also provides a rationale for all predictions, requiring a time-consuming level of immersion, his fulltime job with SGPN since 2017.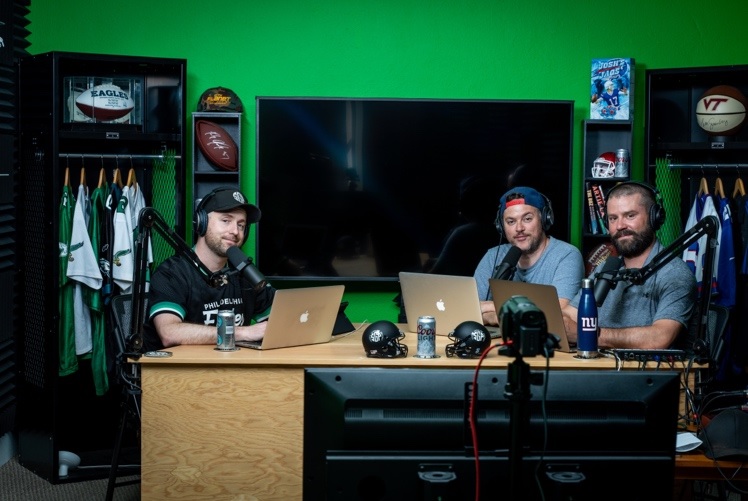 Image: Sean Green (L) Dant (C) and Ryan Kramer on set at the SGPN studios in Los Angeles. ( SGPN Picture )
SGPN, consistently ranked among the top football podcasts in America by Chartable.com, will also track and report the results of Dant's prognostications in a service to its audiences that is unusual in the burgeoning sports wagering advice/analysis
industry.  Dant is one of over 45 contributors covering sports and entertainment for SGPN platforms.
"I'm definitely going above and beyond with this project, but college football is the one sport for which it is actually necessary," stated Dant, a veteran sports wagering expert who has handicapped every Football Bowl Subdivision (FBS) game (over 1,500) since 2017.  "The sport generates an emotional attachment among its fans that is hyper-local, regional, sectional and national.  The time is right for this deepest of dives into the entire FBS.  Full schedules are back, fans are returning and interest is spiking with the waning of the global pandemic. Our SGPN audiences and all college football fans want it and deserve it."
Among Dant's most assertive recommendations is Minnesota over 6.5 wins and North Carolina under 9.5 wins.  The podcasts offer amusing takes on the traditions and history of the college programs with comparative references to rival teams and conferences in conjunction with the SGPN style of combining entertaining content with free, money-making predictions for sports bettors.
Other offerings on the Dant podcasts include suggestions that Texas A&M is overrated, and that Big 12 officials should consider thinking outside the box and grabbing Deion Sanders' Jackson State team and Eddie George's Tennessee State team, plus the transfer portal impact on both high-major and mid-major programs.
The podcast series, available under the "College Football Experience" name on the SGPN website and the SGPN App, is more than half complete with the remaining podcasts on track for posting over the next three weeks.