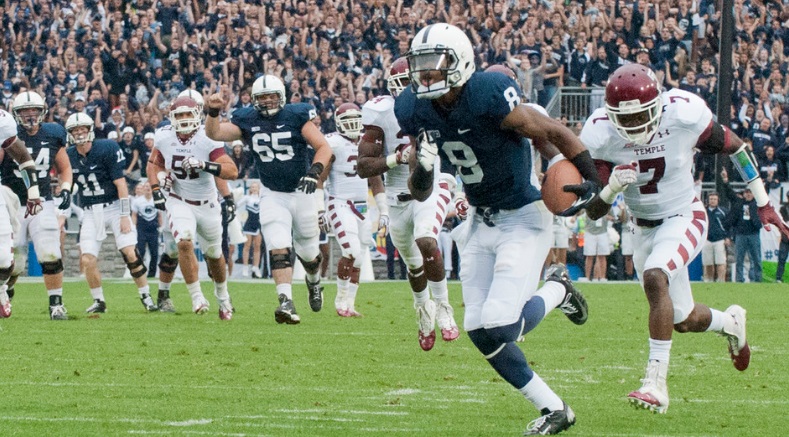 Pennsylvania is celebrating the first year of legal sports betting in the state with a bang and another "B" word.
Billion.
This time last year, there was just a single retail sportsbook operating at Hollywood Casino in the remote town of Grantville, PA. Now, the PA sports betting industry is so big, it has accepted over $1 billion in wagers. In fact, in November, it blew by that number, pushing lifetime bets in Pennsylvania to over $1.1 billion.
Betting handle (the total amount of bets accepted) has increased every month since April, thanks in large part to the start of online betting in PA in late May. As expected, the start of football season meant the amount of dollars bet exploded. Handle jumped from $59 million in July to over $109 million in August. Since the start of football, here is a look at how quickly betting handle has grown:
August 2019: $109,038,051
September 2019: $194,504,622
October 2019: $241,186,066
November 2019: $316,468,264
The first billion is a landmark for the growing PA sports betting market, but a glance at these numbers show us that the second billion will hit in no time. Online betting accounts for more than 80% of the wagering in Pennsylvania. As more apps unfold and the state's population learns more about legal and regulated sports betting, that number will grow, as will the overall handle.
Sportsbooks Have Earned Almost $75 Million In The First Year Of Wagering
The billion dollars in bets is the focus after a year into wagering in Pennsylvania; however, the revenue sportsbooks are bringing in is nothing to scoff at either. The sportsbooks have netted $75 million in profit from betting.
Here is a look at how each book has fared over the first year. Keep in mind that some have been in operation longer than others, while others are only a retail operation, without an online betting arm: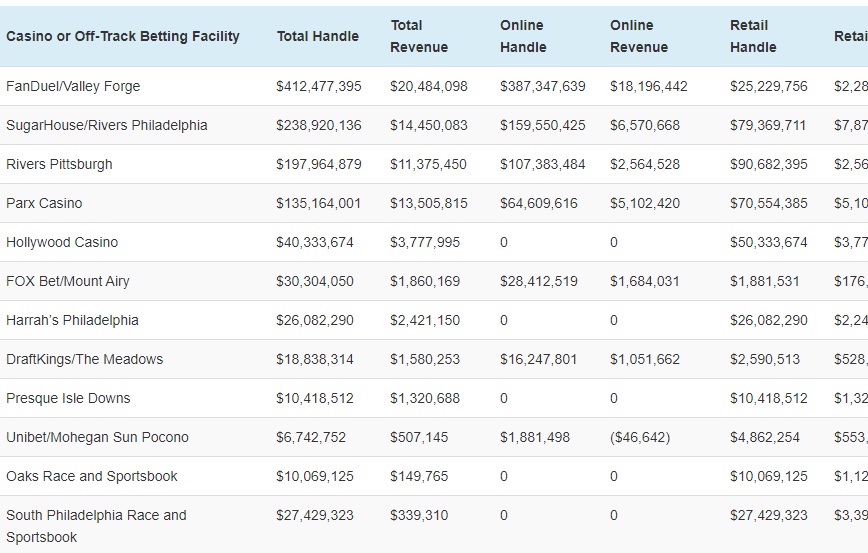 Even though FanDuel was late to arrive in Pennsylvania, only launching in July, the daily fantasy sports (DFS) and betting giant, along with its PA casino partner, Valley Forge Casino, are dominating the market. Between retail and online wagering, FanDuel and Valley Forge account for over 36% of the marketplace. By comparison, Rivers Philadelphia (formerly SugarHouse) was one of the first retail sportsbooks and the first PA online sportsbook and generated almost 21% of bets.
And, to give you an understanding of just how important online betting is in Pennsylvania, consider this: Hollywood Casino was the first retail sportsbook to launch in November, but is responsible for only $40 million of total wagers. Moreover, the sportsbook has produced just $3.8 million in revenue. Nonetheless, because there are more retail sportsbooks than online sites that have been in operation longer, retail did outearn online betting sites with $39 million in revenue compared with $35 million.
New Jersey Hit A Billion In Bets After Seven Months
If you're wondering how these numbers stack up to the New Jersey sports betting market, they are off the mark. New Jersey, however, was quick to launch retail sports betting in June 2018, then began online betting at the start of August. The state hit a billion dollars in wagers in December, seven months after taking the first bet.
Pennsylvania, on the other hand, waited seven months before even launching online betting in the first place. With slower rollouts for online operators, it took PA six months, instead of five, to go from online betting launching to hitting $1 billion in handle. To give you a sense of comparison, seven online sportsbooks were up and running within eight weeks in New Jersey. Pennsylvania, meanwhile, needed six months to grow from three operators to seven.
Pennsylvania Now Has Eight Online Books, 12 Retail Facilities
The industry is still growing too. Currently, there are eight online sportsbooks, one of which, BetAmerica, just launched yesterday, and a dozen retail betting locations. More are in the works, too. When the gambling expansion law passed in the fall of 2017, many were skeptical even half of the 13 licensed casinos would pony up $10 million for a sports betting license.
Instead, all but one casino, Lady Luck Nemacolin, is in the sports betting game. Major New Jersey betting brands FanDuel and DraftKings both found their way into the Keystone State, as did FOX Bet and European powerhouse Unibet.
These PA casinos have retail betting and are in the process of joining the online betting market, too:
Harrah's Philadelphia (Caesars Sport)
Hollywood Casino (Kambi)
Wind Creek
Live! Hotel and Casino