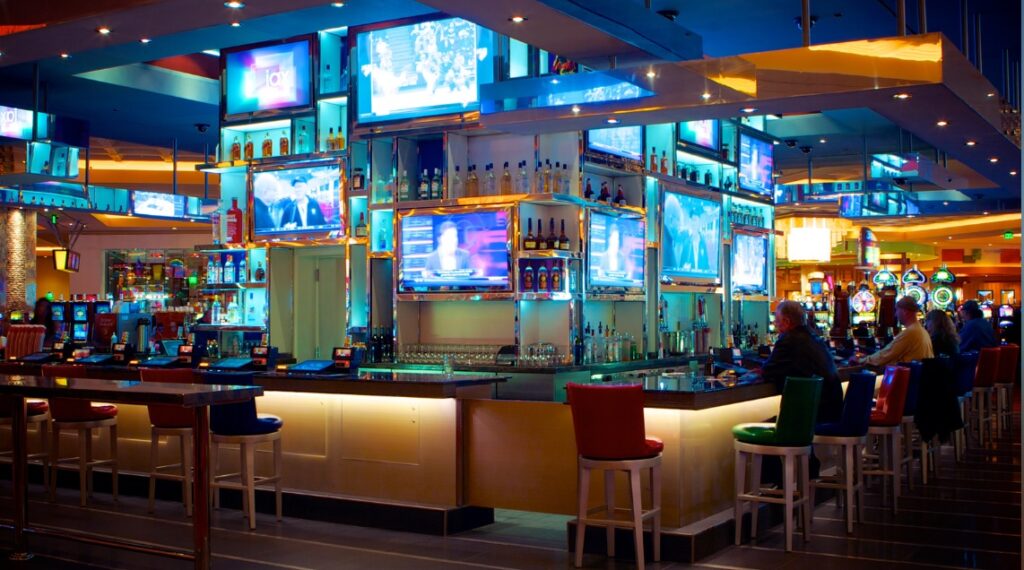 Pennsylvania's Parx Casino opened its brand new "state of the art" retail sportsbook on Thursday, August 8 – just in time for the college and NFL football seasons.
The 156-foot high-definition media wall [is] capable of displaying 36 games at one time.
The highlight of the Philadelphia casino's 7,400-square-foot space is the 156-foot high-definition media wall, capable of displaying 36 games at one time.
To celebrate the grand opening, the first 1,000 patrons were given a free $25 bet when they deposited at least $25 with Parx's online sportsbook.
The sportsbook has six live-teller windows, 18 self-serve betting kiosks, nearly 200 seats, three VIP areas, a bar with another 38 seats, and a dining service. The premises can accommodate a total of 422 people.
Live tellers will be available 10 to 16 hours per day, depending on the volume of sporting events. The sportsbook itself will be open 24/7, and customers will be able to use the kiosks when the live tellers are closed.
Parx still in the early stages of sports betting
Parx Casino's original retail sportsbook opened on January 10, 2019 – the fourth of now eight land-based sports wagering properties in Pennsylvania. Through June, it brought in $39.15 million in handle, which is the total amount wagered. That handle generated $4.44 million in gross revenue for the casino.Parx's online sports betting product did not launch until June 27, 2019. In just a few days in June, though, the total handle was $307,011 with revenue of $46,645. After issuing $28,213 in promotional credits, Parx ended up with a gross revenue of $18,432 from online sports betting.
Sugarhouse Casino launched its online sports betting site a month earlier. So far, it has enjoyed a significant first-mover advantage. Its online handle for June was $18.17 million. Even if Parx's handle was extrapolated over all 30 days of June, it would only add up to $2.30 million.
Management looking forward
It is not just the in-state competitors that Parx is looking to battle with the new betting space. It is also hoping to attract gamblers away from the offshore, unlicensed sports betting sites, a market which Parx's Chief Marketing Officer Marc Oppenheimer described as "gigantic", according to BizJournals.com.
Although the new retail sportsbook is the exciting news for Parx right now, its focus will turn to its internet product. Parx's senior vice president of interactive gaming and sports, Matthew Cullen, told BizJournals.com that it has not yet "really ramped up the marketing" for the online sportsbook. He added that an "aggressive" campaign will launch as the start of the football regular season approaches.