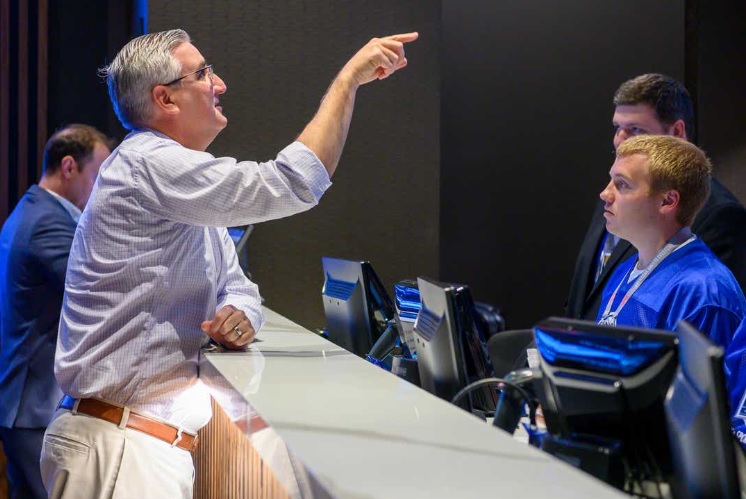 Shelbyville — On Sunday, Indiana Gov. Eric Holcomb placed a bet on his favorite teams.
He bet $10 on the Colts to win the Super Bowl.
Ten dollars on the Pacers to win the NBA Championship.
And $10 on the Indiana Fever to win Sunday night's game.
At noon, Holcomb was the first person to make a bet in the sportsbook at Indiana Grand Casino in Shelbyville on the day sports wagering became legal in Indiana.
A gaming law passed earlier this year allows Hoosiers to bet on major leagues like the NFL, NBA, MLB and NHL. In addition, the Indiana Gaming Commission also approved bets on events like professional boxing, golf, soccer, tennis and auto racing. Bettors can also bet on less popular events, like darts, cricket, lacrosse and sailing.
With other dignitaries from both the casino and the Indiana Gaming Commission, Gov. Eric Holcomb placed the first sports bet in the state at Indiana Grand Racing & Casino Sunday, Sept. 1, 2019. He wagered on the Indianapolis Colts to win Super Bowl LIV, the Indiana Pacers to win the 2020 NBA Championship, and the Indiana Fever to win their Sept. 1 game against the Minnesota Lynx.Doug McSchooler/For IndyStar
Indiana law prohibits wagering on high school and amateur youth sporting events. Betting on NCAA Division I sports, however, is allowed.
Indiana sports betting is legal: Here's everything you need to know.
Indiana Grand Casino is now the first Caesars Entertainment property in Indiana to open a sportsbook. The sportsbook now also makes the casino in Shelbyville the second-largest Caesars Entertainment property behind Caesars Palace in Las Vegas, officials said Sunday during the sportsbook ribbon cutting.
"The legislature did something rare. We're progressing with this gaming bill and bringing another amenity to not only Shelbyville, but also the state of Indiana, with sports wagering," Rep. Sean Eberhart said. "And it helps us bring a little bit of competition with other neighboring states. Hoosiers can now bet with confidence."
Holcomb said if he won any of the bets, he'd donate the money to the Indiana Canine Assistant Network, a nonprofit organization that provides assistance to children and adults who live with a disability by partnering them with a service dog.
The gaming commission permitted 13 locations to take bets starting Sunday. The locations — 10 casinos and three off-track betting sites — are:
Ameristar in East Chicago
Belterra Casino Resort in Florence
Blue Chip Casino in Michigan City
Horseshoe Southern Indiana riverboat casino in Elizabeth
Blue Sky Casino at the French Lick Resort
Hollywood Casino in Lawrenceburg
Harrah's Hoosier Park in Anderson
Horseshoe Casino in Hammond
Indiana Grand Racing & Casino in Shelbyville
Tropicana Evansville casino
Winner's Circle off-track betting locations in Indianapolis, Clarksville and New
Haven