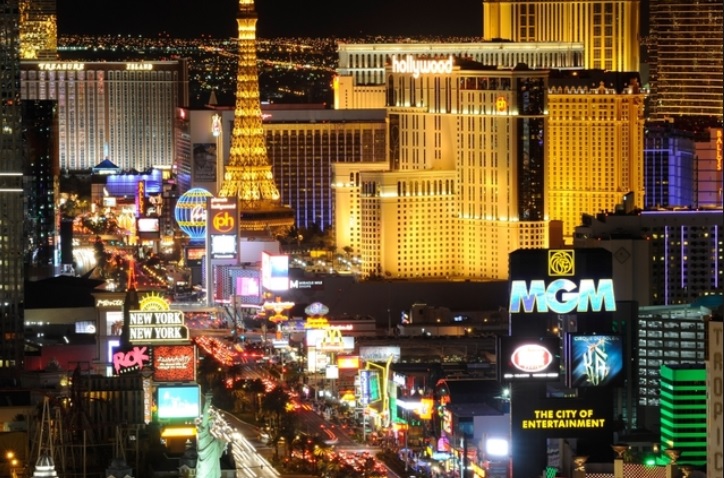 Las Vegas casinos had been dark and quiet for 78 days until reopening just after midnight, Thursday.
The famous fountains outside of Bellagio danced again, and there were cheers, thank-you's and even a few big bets, as casinos on the Las Vegas Strip, downtown and in the suburbs opened their doors for the first time since closing March 17 because of the coronavirus pandemic. The giant video screens at the sportsbooks were on once again, albeit showing Korean baseball, and the odds boards were lit up with betting options.
Casino owners and sportsbook executives said they had heard from guests during the shutdown who were eager to return, but there were no guarantees they would show up and accept the new conditions: Plexiglas dividing blackjack tables; having their temperature checked and being offered an optional face mask at the casino entrance, along with social distancing protocols that, for now, will prevent the overflow crowds that sportsbooks are accustomed to for big events.
Yet, shortly after midnight, June 4, guests cheered and clapped loudly as they walked through the doors at Sunset Station, a casino in Henderson, Nevada, popular with locals.
"I could see guests moving quite rapidly, almost running to get to their favorite slot machine or wanting to place the first bet in the book," Chuck Esposito, sportsbook director at Sunset Station, told ESPN, adding that the first bet he took upon opening was on a Korean baseball game being shown at his book.
Downtown at The D Hotel & Casino, owner Derek Stevens led a New Year's Eve-style countdown to midnight.
"Boom, the clock struck 12 and everyone stormed onto the casino floor," Stevens said. "It was something special, something unique, and it was a lot of fun."
Stevens recently gave away more than 1,000 flights to Las Vegas from various cities around the nation in an effort to bring people back to the city. All of the flights were booked in less than two hours.
"It was stunning, just overwhelming the number of people that came up and said, 'Hey, thank you for opening,'" Stevens said. "There was so much pent-up demand for people to see friends, to see people in person."
Not every Las Vegas casino reopened last week, so the business was funneled into select properties. Caesars Palace opened its casino, but not its sportsbook, as the company evaluates the demand with most major sports leagues still on hold. The PGA Tour will hold its first tournament this week, since halting play in March, and the Premier League is slated to resume next week. The NBA and NHL also have announced plans to return later this summer.
"Outside of questions about safety protocols, I'd say the question I got the most was if football was going to come back for sure," Esposito said.
Overall, crowds at the sportsbooks were modest, bettors and bookmakers said. There were more horse players than sports bettors at most places, which isn't always the case.
At the Bellagio, a high-end MGM property on the Strip, the race and sportsbook initially scheduled three ticket writers to handle over-the-counter wagers when it opened Thursday. By Saturday, they had to call in reinforcements to handle the interest in horse racing.
"When they would send a writer to lunch, they'd have problems and would barely get people in before starts of races," Jeff Stoneback, MGM's director of race and sports in Nevada said. "They had lines six- or seven-deep at each one of the windows before the races. They could have used more writers yesterday."
The first bet Bellagio took after it reopened was $20 on the Dallas Cowboys to win the NFC, but there were several bigger football bets too. Stoneback said a regular player with MGM flew in to Las Vegas and placed seven bets on the NFL, totaling $157,250. The largest wager was $41,250 on the Jacksonville Jaguars winning less than five games this season. "Then, he flew right back out," Stoneback said of the customer.
The biggest reported bet of the week, though, was a historic one — $1 million on Amanda Nunes at -600 odds to defeat Felicia Spencer in the main event of UFC 250 on Saturday. The bet was placed at the William Hill U.S. sportsbook in Las Vegas. The company said it was largest bet on an MMA event it had ever taken. Nunes won in a unanimous decision, and the bettor won a net $166,666.70.
Mark DeRosa, 37, a sports bettor from Florida, flew into Las Vegas for the reopening and made the rounds to several sportsbooks. He found hand sanitizer at the betting windows and said attendants would disinfect the counters after each transaction. He estimated he had his temperature checked six times a day when entering casinos from the parking garages.
"I found out I must run cold because my body temperature's been 97.8 every single time," said DeRosa, who cashed a $63,000 ticket on Lamar Jackson to win the 2019 NFL regular-season MVP at Circa Sports while he was in town. In total, DeRosa says he made over $300,000 on a series of bets he made on Jackson to win the MVP last year.
"Everywhere you go they're taking precautions to ensure the safety of everybody, and everybody is just super-nice," DeRosa said. "They're really excited to see people."
April gaming revenue in Nevada was down 98% year-over-year, according to figures from the Nevada Gaming Control. The only revenue came from online poker and limited sports betting. May isn't expected to be any better. Now, Las Vegas begins an uncertain recovery. No one knows how long it will last or what it will take to create a Las Vegas experience that makes everyone comfortable today and in the future.
"I was skeptical that people were going to show up," Stoneback said, "but apparently I was wrong at least for this first weekend."