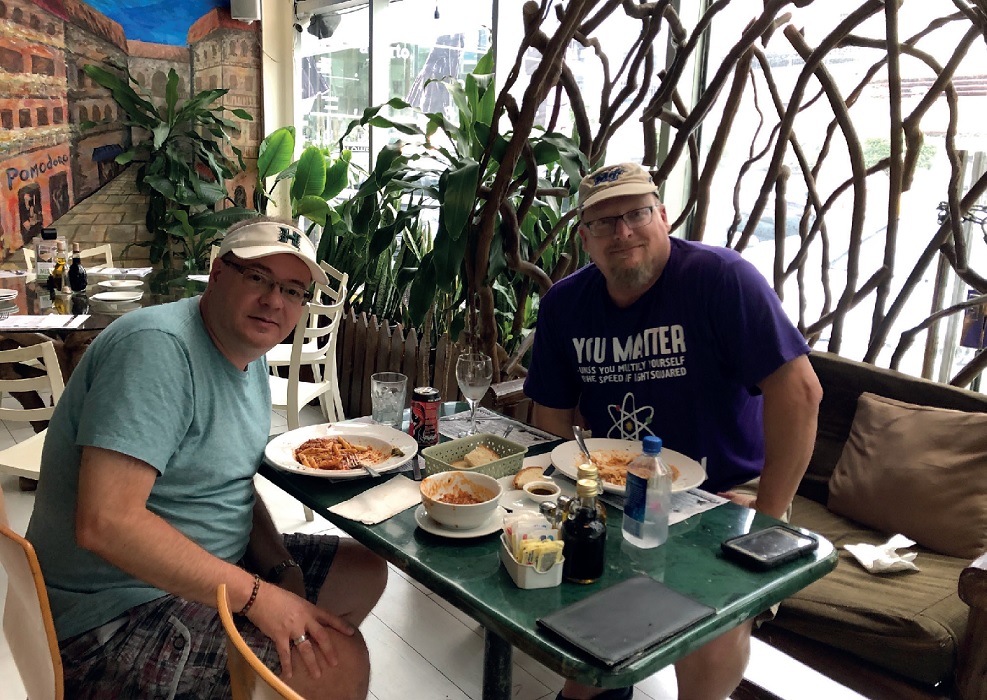 When it comes to On-Air personalities, there are very few bigger ones than Lenny "The Coach" Herron and P.B. King. They are the larger-than life co-hosts of "The Best Damn Sports Show Around." They have been on hiatus as they restructure the show to focus more on Sports Betting. As Herron says, "The show re-tooling is going great. We are a hot commodity and the phones are ringing off the hook. Its a little bit overwhelming but also tons of fun. Everyone is wanting to be a part of this and wanting to help. So we are taking our time and making sure we surround ourselves with strong partners who are aligned with our vision." And what is that vision? King is quick to point out that they are "Entertainers covering Entertainment in an entertaining way. We Cover, report, and interview all of the top storylines and players in Sports, Music, Film, and Gaming. Our goal is to have as much fun as we can with guests that people want to hear from. We want to disseminate good information and good advice. But most of all we want our listeners to be informed and entertained."
Player profiling will be a top priority for the show. According to Herron, they will be profiling all the top entertainment figures, especially in the gaming world. "And during the times of the year when it seems everyone is betting on, for example, the NFL resulting in tight odds, our show will also manage to take time to involve games that no one is watching that often provide better value." King was quick to add, "Yes, we understand that big games generate their own interest, but a good deal of interest and entertainment can be generated on less publicised games as well."
The there are many Sports that have different betting aspects to that some like US Football have  powerplay sports betting all of these are worthy of opinion and comment.
The dynamic duo consider themselves uniquely qualified for a show like this. According Herron, "we both are avid sports fans, and so no matter how much we work…it never feels like work. We each have a ton of prior experience in entertainment that we both have gained since leaving college, all of which I consider to be big contributing factors in making our Radio Show a success? "For example," Herron continues, "My Father was on staff with Kenny Rogers and Dolly Parton back in the 70's and 80's when they were on top of the entertainment world. So I grew up surrounded by superstars and I am very comfortable in that environment. I went on to travel the globe many times over with some of the biggest acts in the world.
King took a different path. "My background is in operations and I have worked with many sports superstars and multi-gold and multi-platinum winning artists. Together we bring a comfort and familiarity to any situation we are in. But one thing we have in common is that we like to have fun and most of all, we enjoy making others have fun as well."
One aspect of the show will be a heavy dose of interaction with listeners via phone-in's, Twitter, and Instagram. As King puts it, "Nowadays I think fans expect a good deal of interaction.. People want to be engaged and want to feel like they are a part of the show. Plus we feel like engaged fans are loyal fans. At the end of the day, it really is all about about the fans anyway.
Of course sponsorships make the world go around, but the show is being particular about about who they bring on board. According to Herron, "we are in the process of sorting through our options. We are being very careful because we want to make sure it is a good cultural fit for both parties. One sponsor we have signed already is an online dating app called DraftMate. The beta version has been launched and is already in the app store. To our knowledge, it is the only sports-themed dating app which allows people to connect with the mutual shared passion of sports. That is an excellent example of what we would call a good "cultural fit" for a sponsor.
Another cultural fit involves the studio that the show will call home base. Again, they are reviewing their options as part of the re-tooling. "I think that our show would be a hit at a major Resort Casino" says King.
"First of all, we are always happy and easy to work with. No divas allowed on our staff. But most importantly, this would be another classic example of a good cultural fit. Hosting our show would be a (relatively) low cost way to have their brand associated with all the top sports, music, gaming, and movie stars. Our attention to odds and sports betting should pay big dividends. At the end of the day, Casinos are in the same business we are…the Entertainment Business.
The launch date for the re-vamped show should be sometime in late January of 2020. Herron explains, "We are in pre-production now and pre-taping various bits and promos. Knock on wood, we are planning our official launch around the Pegasus World Cup at Gulfstream Park in Hallandale Beach, FL. We plan to do a ton of live remotes, interviews, and maybe even host a party or two."