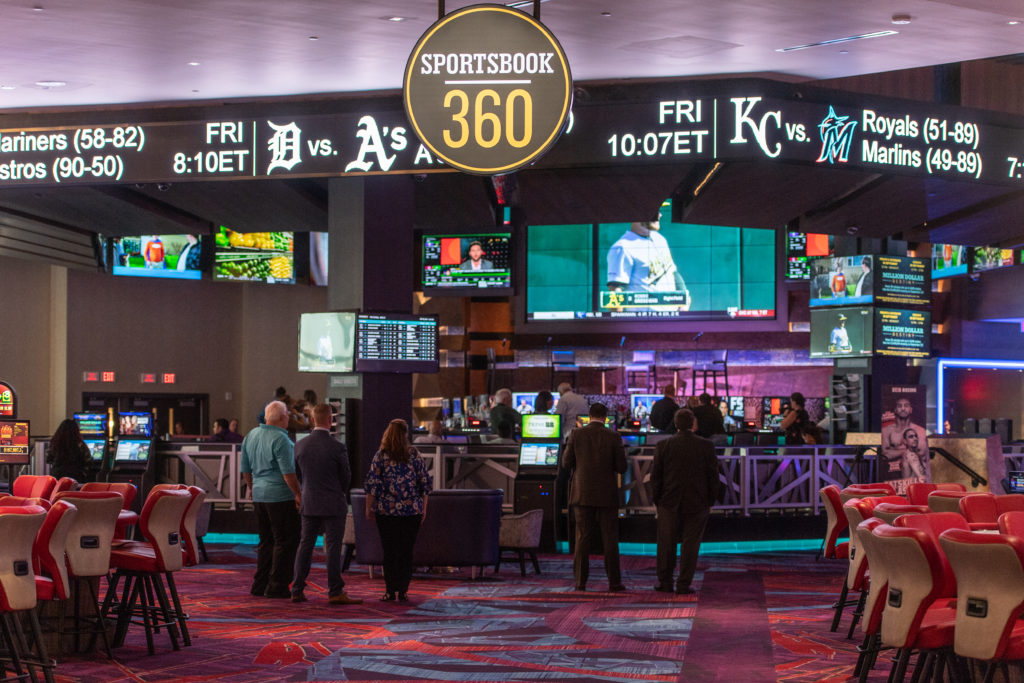 NEW YORK, July 17, 2020 /PRNewswire/ — In March 2020, the novel coronavirus swept through the U.S., forcing stay-at-home orders and business closures across the country — including all but two of the country's nearly 1,000 casinos. Mentioned in today's commentary includes: Wynn Resorts, Limited (NASDAQ:WYNN), Intel Corporation (NASDAQ:INTC), Microsoft Corporation (NASDAQ:MSFT), Amazon.com, Inc. (NASDAQ:AMZN), HUYA Inc. (NYSE:HUYA).
That same month, New Jersey, Delaware, Nevada, and Pennsylvania — the four U.S. states with legal online poker sites — all reported record-high online gaming revenues. In particular, Nevada, the country's gambling hub, reported more than a 90% increase from the same month last year.
Even before COVID-19 struck, the online gambling industry has been growing exponentially for years. In 2017, the global market was valued at around $45.8 billion. By 2024, some experts predict global online gambling bets will hit nearly $95 billion. And the global market for online gambling is estimated to grow by 11.5% annually until 2027.
"There is a huge shift coming to online betting and we are perfectly situated to take advantage of that," said FansUnite CEO and co-founder Darius Eghdami in an exclusive interview.
While FansUnite ( FANS.CN; FUNFF.PK ) only went public on May 5, 2020, it's quickly emerging as a serious player (pun intended) in the public online gambling market.
For one thing, it has some of the most impressive forward-facing sports betting technology in the industry. Its proprietary software allows the company to market unique products and services, and—more importantly—provide increased transparency which allows regulatory oversight in an industry that desperately needs it… all while saving its customers money.
Also, the company's management team—which includes some of the best players in the business, with decades of combined experience—is pursuing aggressive growth through mergers and acquisitions; in a few short months, it's already completed or signed multiple strategic deals to grow its user base and greatly expand its service offerings… and it's actively looking for more.
Specifically, as more and more states legalize sports betting, FansUnite has its eye on capturing the emerging U.S. sports betting market.
A moment in history… and a huge potential catalyst
Due to a lack of regulation and oversight, the U.S. sports betting industry has historically been shrouded in mystery.
But in the last couple of years, that's started to change.
In May 2018, Delaware was the first U.S. state to legalize sports betting following a historic Supreme Court victory. The win set a precedent for any other state that wished to legalize sports betting.
Since then, other states have been quick to follow suit. As of June 2020, 18 states had legalized sports betting, while five more (including Washington, D.C.) have recently passed bills that would allow them to do so.
In the meantime, Congress has also been contemplating sports betting legislation at the federal level. Although any major legislation has yet to be enacted, there's been talk: In September 2018, Congress held a hearing on traditional sports betting for the first time in a decade.
"Sports betting is inevitable—so let's make sure it's done right," Ex-Senator OrrinHatch said in the press release.
If passed, the bill could potentially act as a huge tailwind for the sports betting industry.
Experts believe sports betting could be worth some $7–8 billion in the U.S. alone by 2025, up from $833 million in 2019.
The online betting boom is so big, in fact, that even Sin City giants are getting on board. Wynn Resorts (WYNN) is an iconic Las Vegas staple. Despite some setbacks from the COVID-19 pandemic, Wynn has performed well against its competitors, even after a larger industry-level decline. And now it's looking to expand its online betting footprint. Though the platform is only available in a few U.S. states at the moment, it will likely grow as more states legalize sports betting.
Now, let's talk about the elephant in the room…
If you've never heard of esports… well, you may be a little behind the curve. So let's catch up: Esports is an umbrella term for the exploding professional video gaming industry. Professional gamers compete, spectators watch online (and wager), and brands advertise.
While it started as a niche—and often disparaged—hobby space, it's evolved into a billion-dollar industry in its own right. Sports organizations like the NBA, as well as legends like Michael Jordan, have esports partnerships and endorsements, while major networks like ESPN have been giving it increased exposure.
Total esports viewership hit 454 million in 2019… and is expected to grow at a compound annual growth rate (CAGR) of 9% to hit 646 million in 2023. The industry is also seeing major growth in financial backing. Investments in 2017 were at about $490 million… while in 2018, they hit around $4.5 billion—marking a mindblowing 837% YoY increase.
This is why Amazon (AMZN) paid nearly $1 billion to acquire streaming giant Twitch. Amazon's Twitch.tv, as the de facto leader in the space, with over 15 million unique visitors per day, has become so engrained in the industry that new video game consoles even have the platform's streaming functionality built in. It's so dominant, in fact, that it accounts for 1.8 percent of peak internet traffic.
Looking to follow in Twitch's footsteps, however, Chinese streaming giant Huya (HUYA)is looking to carve out its place in the esports industry. As a part of its ambitious and aggressive plan to dive into Western markets, Huya is looking to partner with some of the top teams in the business, and it's got a significant war chest to help its cause.
Even tech giant Microsoft (MSFT) is getting on board. The maker of the Xbox and publisher behind such groundbreaking titles as Halo and Destiny, Microsoft unexpectedly became a heavy-hitter in the gaming industry in the early 2000s. More recently, the company's video game division has hit a few snags – like the rest of the industry, profits were held back by spiraling costs. Despite this, however, Microsoft has flourished, and could even become the world's first $2 trillion company.
And it would be impossible to ignore the hardware producers in this industry. Intel Corporation (INTC) is a leader in multiple fields of technology. The forward-thinking industry giant is the backbone of many laptops and PCs running the Windows operating system. The company has been so successful in its deal-making and advertising that it is impossible to escape its influence. Without Intel, esports and even online betting might not exist in the way we know it now. The chipmaker is everywhere, and while there is some emerging competition, it remains the de facto leader in its field.
And FansUnite just made a game-winning acquisition into the esports market…
At the end of June, just over a month after going public, FansUnite (FANS.CN; FUNFF.PK) announced that it signed a deal to acquire Askott Entertainment, Inc., a gambling software company based out of Vancouver. Askott is a recognized leader of the esports gambling market, providing wagering software for multiple fantasy sports leagues, casino-style games, and various other esports.
The Askott acquisition should provide FansUnite the perfect entry point into esports betting. And as more U.S. states legalize the practice, opening up the market for companies to move in, FansUnite could easily become a huge beneficiary of this rapidly exploding growth trend.
A tried and true growth strategy & industry-leading tech
Back in March, FansUnite (FANS.CN; FUNFF.PK) officially acquired McBookie—a white-label virtual sportsbook that largely serves the Scottish market. The acquisition was a smart strategic move by the company. The purchase came with a built-in active user base of 10,000 people, as well as $100 million in collective turnover over the previous three years.
Aside from its acquired assets, FansUnite boasts its own proprietary technology. In addition to its own business-to-customer (B2C) sportsbook, set to launch later this year, appropriately branded Sportsbook, the company will sell its "white label" technology to business-to-business (B2B) customers (i.e., companies that want to establish their own gambling platforms). In return, FansUnite would get a portion of their customers' "house" profits.
The bottom line
Online gambling is already booming—and it's set to explode even higher in years to come.
Recently IPOed FansUnite has been operating in the industry for years. It's got an established user base and industry-recognized technology… it's scaling its B2B and B2C business segments… and it's focused on an aggressive M&A growth strategy. It's got a leadership team with decades of experience, and financial backing from major investors.
As sports betting becomes legalized across the U.S., FansUnite has a plan to move into the market. And even as we wonder about the status of our favorite professional sports leagues in a post-COVID-19 world… and how that might impact the sports betting industry… the company has got that covered, with an eye on the burgeoning esports industry.
FansUnite (FANS.CN; FUNFF.PK) currently has a market cap of just $30. Given what we're seeing in the industry, it's impossible to tell where that could go. But with its announced corporate strategy, FansUnite could provide the right early stage entry point to a market expected to grow much bigger in just a few short years.
By. Chloe Hawthorne