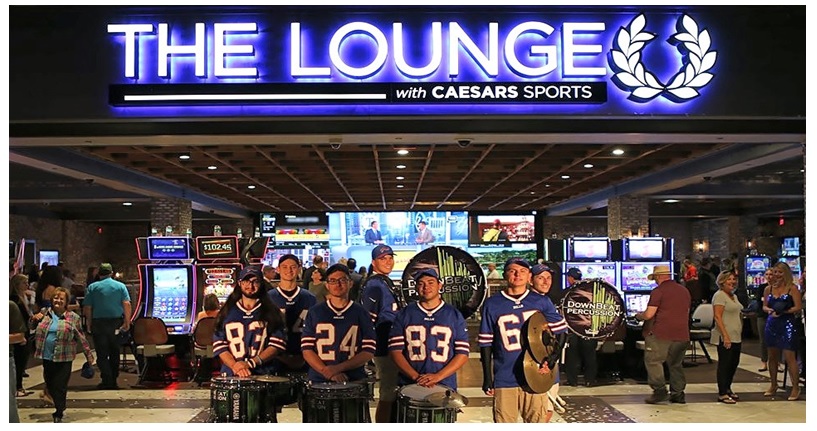 New York's largest sportsbook opened its doors to sports fans on Wednesday, just in time for the start of the NFL season.
The Lounge with Caesar's Sports, is located at Yellow Brick Road Casino in Chittenango, Madison County, just east of the Onondaga County line.
The state's latest sports betting facility officially opened for business at 11 a.m. with local dignitaries including Senator Bob Antonacci in attendance, according to a press release issued by the Oneida Indian Nation who own the casino.
Those at the event will also include Madison County Board of Supervisors Chairman John Becker, as well as Oneida Nation Representative and Nation Enterprises CEO Ray Halbritter.
Encompassing 8,800 square feet of floorspace, the newly opened facility is the largest of its kind in New York state, eclipsing its nearest rival by more than 2,200 square feet according to a report on syracuse.com.
The end result is being described as an "over-the-top" experience for sports fans who can enjoy amazing facilities alongside award-winning food and cocktails according to Yellow Brick Road Casino.
Some of the highlights of the new space include a custom-built 32-foot video wall as well as 30 large-screen 4k TV's bringing bettors the latest sports action. There will also be dozens of luxurious stadium recliner seats as well as additional seating for more than 200 fans.
VIP areas are also available to enhance the gameday experience. These include seven exclusive fan caves that can be booked ahead of time alongside an elevated VIP platform offering unparalleled views of the new facility.
"The Lounge is an electrifying, world-class sports book experience for a new generation of fans," boasts Yellow Brick Road Casino's promotional materials. "We've partnered with global gaming leader Caesars Entertainment to deliver year-round, multi-sport viewing and Vegas-style wagering on a level no one on the east coast has even imagined."
The Yellow Brick Road facility is just the latest sports book to be opened in New York state following the U.S. Supreme Court's decision to strike down the Professional and Amateur Sports Protection Act in May 2018.
The Oneida Indian Nation has already opened two other sports lounges at Turning Stone Casino Resort in Verona and Point Place Casino in Bridgeport, Madison County.
Three other sportsbooks have also opened in non-Indian nation owned casinos including Del Lago Resort Casino in the Finger Lakes, Rivers Casino Resort in Schenectady, and Tioga Downs in the Southern Tier.
New York is the 10th state to legalize sports betting and one of the most coveted markets in the entire country. Early estimates suggest that the Empire State could expect to collect anywhere between $10 million and $30 million per year in sports betting profits.
Though the opening of bricks-and-mortar sportsbooks is an important step for New York, the state still lags behind neighbors such as New Jersey because it has yet to legalize online wagers.
With the current facilities located upstate, several hours drive away from New York City, many bettors are more likely to simply cross the Hudson River and place wagers via their smartphones. Nevertheless, this latest opening is good news for sports betting fans and a step in the right direction for the industry as a whole.