BERWYN, PA, September 07 — Epoxy.ai (www.epoxy.ai) — the new innovation leader in AI driven sports technology — today announced a new milestone in the evolution of sports media and gaming with the commercial launch of the first comprehensive  personalized betting destination within the betPARX sports betting app.
To coincide with the start of pro football season, beginning on Thursday, September 8th, 2022, users of the betPARX app will enjoy a new feature that allows them to access a personalized area based on analytic models of individual users' preferences. Designed for fast and easy sports betting.
The new personalized area is displayed in rich infographics that marry the bet offer with relevant statistical information and supporting graphic elements that help entertain, inform and educate the user while placing a bet.
"Of core and casual bettors, over 75% report difficulty navigating sports betting apps to find bets that interest them," said Jason Angelides, COO of Epoxy.ai. "Most 'would be' bettors cite difficulty understanding betting applications as the primary reason for not making a wager. Our platform addresses these problems by making sports betting easy and fun for the user."
In addition to the personalized offers, betPARX will leverage Epoxy's On4Me™ entitlements service, which uses AI to determine available sports for specific users to watch live. This feature helps more than 65% of bettors who want to ensure they can watch a game live before they bet on it.
Stated Matthew Cullen, Senior Vice President, iGaming & Sports for betPARX: "Users are used to products that understand their behaviors and personalize the experience precisely for them. Think of Spotify, Instagram, and Netflix. This is the norm that does not exist in the sports betting space, and we are ecstatic to deliver this first-of-its-kind betting-specific experience to our users."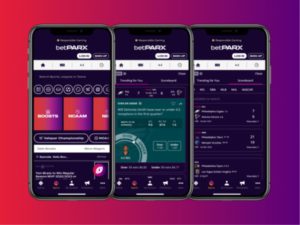 Later this fall, in addition to adding pro hockey, soccer, pro and college basketball to the experience, betPARX will also be adding the ability for users who are watching a game live to enable TV detection. Similar to Shazam™, this technology identifies the specific game or games the user is watching — and then delivers personalized offers and content related to the game being watched on TV.
Added Angelides: "This additional context enables some very powerful capabilities to enhance the betting experience for the 85% of sports bettors who watch the games they bet on.
For example, users bouncing back and forth between multiple sporting events could be presented with a multi-game parlay based on the games they are watching. It's all about reducing friction and creating an environment that makes the customer experience unique to them."
About Epoxy.ai
Founded in 2021, Epoxy.ai is a sports technology innovation company. Rooted from OneTwoSee – the team that helped create the second screen and sports fan engagement industries with its interactive sports platform – Epoxy.ai is taking fan engagement to the next level. Epoxy.ai's platform enables the development of new forms of Acquisition,
Engagement and Retention across the global sports media and gaming ecosystem. Its mission is to provide B2B solutions that simplify the user experience to increase fan and consumer engagement, providing unique opportunities for differentiation and are adaptable to meet the specific needs of its customers' businesses.