Maryland's Lottery and Gaming Control Commission has approved five firms that a handful of casinos hope will one day operate their on-site sportsbooks.
The unanimous vote, at an online meeting on Thursday, moves the casinos one step closer to being able to take bets inside their facilities.
The operators were approved without discussion. They are:
Barstool Sports, partner of Hollywood Casino Perryville;
Caesars Sportsbook, partner of Horseshoe Casino in Baltimore;
FanDuel Sportsbook, partner of Live! Casino in Hanover;
BetMGM, partner of MGM National Harbor in Oxon Hill; and
TwinSpires, partner of Ocean Downs Casino in Berlin.
In a statement, Lottery and Gaming Director John A. Martin acknowledged that the commission's actions, while necessary, don't resolve the central challenge facing firms looking to launch sports betting operations in Maryland.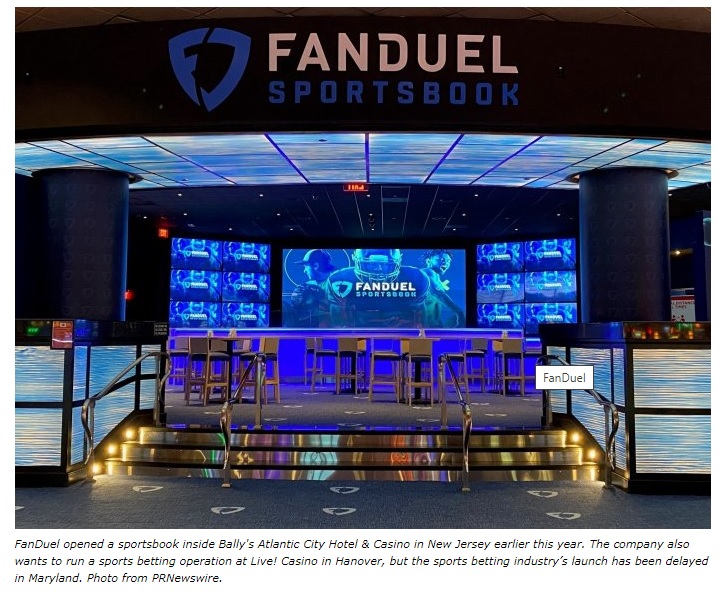 He pointed to the Sports Wagering Application Review Commission's decision not to act on the five casinos' applications on Wednesday.
"We're obviously disappointed by the lack of progress in yesterday's SWARC meeting, but we're pleased that we've moved forward in other areas," Martin said. "The delay is likely to push sports wagering back until after the New Year. At this point, we are hoping to make the NFL playoffs in January and the Super Bowl in February."
When state lawmakers approved sports wagering legislation in April, they expressed hope that Marylanders would legally be allowed to place wagers in bricks-and-mortar facilities by Week 1 of the NFL season, two months ago. (Online wagering is not expected to be approved for several months.)
All five sportsbook operators applied under an "alternative licensing provision" in Maryland law that allows companies to do business temporarily if they have passed muster in three states with regulations similar to those in effect here. Permanent licenses will be issued after the commission conducts its own review.
Members of the SWARC appeared reticent following a 2-1/2 hour meeting on Wednesday that consisted almost entirely of a closed-door briefing from the attorney general's office.
"There are complex legal issues affecting our actions," said Thomas M. Brandt Jr., the panel's chairman. "I've done my best. This has been challenging."
He then asked his colleagues to offer their "thoughts [on] what should be our next steps as a commission," but there was silence.
"We have a need to communicate as to what we're doing," Martin prodded. "Thoughts? Matt? George? David?," he said, running through staff in attendance. Members voted to request more information about who owns the five casinos whose applications have been approved by the lottery and gaming commission.
They then adjourned. Brandt did not respond to an email request for comment.
Although the SWARC set a follow-up meeting for Nov. 18, close industry observers said it remains unclear whether the panel will be more willing to take action then.
"People are resigned to it," said one observer, who asked not to be named. "Whether folks like it or not, people understand this is the process."
Four members of the commission were appointed by the leaders of the General Assembly, which is controlled by Democrats; Gov. Lawrence J. Hogan Jr. (R) appointed two others, including the chair. A seventh member is a Hogan appointee to the gaming commission.
Although the attorney general's advice to the SWARC remains confidential, it is believed that the panel is hesitant to act until issues surrounding minority business enterprise (MBE) participation in the new industry have been resolved.
Members of the General Assembly have repeatedly said they do not want the rollout of sports wagering to resemble medical cannabis, a program that saw initial licenses go almost exclusively to white-owned companies.
Hogan blasted the SWARC for its decision not to approve the five casinos on Wednesday, suggesting that the panel will likely be sued by the applicants. But legislative leaders from both chambers have issued statements supporting the SWARC's approach.
"The Sports Wagering Application Review Commission is an independent entity charged with administering Maryland's sports wagering program," Senate President Bill Ferguson (D-Baltimore City). "I wholeheartedly trust in the ability of the independent commissioners — including the Governor's own appointed representatives — to consider all information and use their best judgment to issue licenses fairly."
Source: Maryland Matters