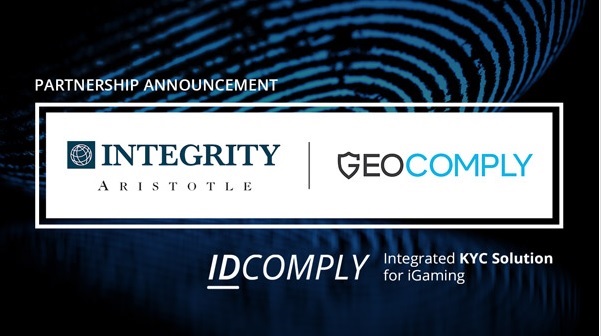 Washington, DC and Vancouver, Canada (November 6, 2019) — Aristotle International's Integrity division, leaders in age verification and KYC, announced today that its solutions will be integrated as a premium vendor within GeoComply's new IDComply service. IDComply provides seamless links to industry-leading age and ID verification services, via the existing GeoComply API, to deliver the highest possible levels of player-acceptance in a compliant, fast and low-friction model.
The first customer for this service will be Amelco, to support the expansion of their online casino and sportsbook operations in the US market.
Utilizing Integrity's unparalleled age and identity verification within the IDComply solution, online sportsbooks, casinos and poker sites can ensure they are meeting their KYC compliance requirements so that minors do not have access to age restricted iGaming services.
"Integrity offers GeoComply a range of KYC and identity solutions already used by leaders in iGaming and online sportsbooks in US regulated market", said Aristotle CEO John Aristotle Phillips. "Partnering with GeoComply gives customers the ability to combine two critical compliance services in a single integrated solution. Given that both companies are licensed in New Jersey, Nevada, West Virginia, Pennsylvania and Indiana, sports betting and iGaming operators can implement an easy-to-deploy solution for KYC and geolocation compliance.
David Briggs, President of GeoComply shared, "Our goal for IDComply is to offer best-of-breed KYC and age verificition in a streamlined solution.  Aristotle has proven to be an excellent partner for us to this end. IDComply gives customers a way to quickly enter new markets, utilizing an integrated geolocation and KYC compliance solution from licensed companies they know and trust. Phillips added, "Aristotle and GeoComply have both built exceptional reputations for offering well-tested, reliable and market-leading solutions for the regulated online gaming industry. This partnership provides an exciting opportunity for iGaming and sports betting operators to leverage this integrated solution to ensure a fast and successful entry into new markets.

About Aristotle's Integrity
Integrity is a suite of widely accepted global identity and age verification solutions. Providing tailored solutions for both commercial and government sectors, Integrity is the most comprehensive and cost effective approach for age and identity verification available across multiple platforms. See more here.

About GeoComply
GeoComply is a global leader in geolocation technology. Since launching in 2011, GeoComply has quickly become the iGaming industry's trusted solution for reliable, secure, and accurate geolocation services. GeoComply currently supports regulated online casino, poker, sports betting, lottery, ADW, and DFS operators in 43 US states to ensure compliance with state and federal regulations. For more information, please visit GeoComply.com.