BWF, together with major sponsor M88 Mansion, will be holding the TotalEnergies BWF World Championships 2022 in Japan on August 22-28.
This is the first time the east Asian country will host the competition, and the fifth Asian nation to do so. Matches will be played at the Tokyo Metropolitan Gymnasium.
Over 300 competitors from more than 40 countries slugged it out to emerge as the best in five events, with the host and last year's overall winner taking the lead.
Reigning champions for each category are: Loh Kean Yew of Singapore (men's singles), Yamaguchi Akane of Japan (women's singles), Hoki Takurō and Kobayashi Yūgo of Japan (men's doubles), Chen Qingchen and Jia Yifan of China (women's doubles), as well as Dechapol Puavaranukroh and Sapsiree Taerattanachai of Thailand (mixed doubles).
The draw was held on August 10 in Kuala Lumpur, Malaysia, producing interesting brackets.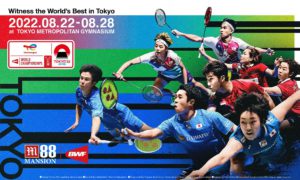 Men's singles world number one Viktor Axelsen is set on a collision course with fellow Dane Rasmus Gemke in the quarter-finals, while Indonesians Jonatan Christie and Anthony Ginting are also both on the top half of the bracket and could possibly meet in the semis.
In women's singles, top seed Yamaguchi and 14th-ranked Takahashi Sayaka can tentatively clash in the third round, with An Se-young of South Korea and PV Sindhu of India as probable semi-final round opponents.
Hoki and Kobayashi journey back to the top have them starting in the bottom half of the bracket, with the more thrilling matchups found in the upper half of the draw. Chen and Jia also averted some early tough challenges in their section.
Finally, Puavaranukroh and Taerattanachai could feasibly contend against two Japanese pairs en route to the final.
The BWF World Championships follow the single elimination knockout format.
As part of the partnership between M88 Mansion and BWF, updates and highlights will be provided on the M88 Mansion-BWF website and social media accounts before, during, and after the event. A top BWF player will also be featured and interviewed.
First organized in 1977, the tourney has been held annually, except for Summer Olympic years, since 2005. It was last staged in 2021 in Huelva, Spain.
ABOUT M88 Mansion
M88 Mansion is one of the pioneers of online gaming entertainment in Asia. It has rapidly grown to a regional operation and has formed partnerships and associations across the globe. Established in 2007, M88 Mansion to date, displays the largest and the most diversified collection of sports betting offers, casino slot games and table games as well as live dealer casino games. With almost two thousand employees supporting more than 1,000,000 customers in the Southeast Asian region, M88 Mansion continuously strives to provide optimum Customer Care support to its valued players ensuring a safe, secure and a fun place to play, proving its claim to be the number one gaming destination in Asia.
Visit M88 Mansion website: www.m88.com
LinkedIn: www.linkedin.com/company/m88-mansion