Authors, journalists, athletes and publishers are being urged to enter their work for the world's most valuable literary sports writing prize as the deadline for submissions rapidly approaches. Entries for the prestigious William Hill Sports Book of the Year Award 2023 will close on 18th August 2023.
Writers have one last shot to submit their sports literature efforts for consideration. Whether it's a gripping biography of an iconic athlete, an in-depth analysis of an historic sporting event, or even a captivating work of fiction with sports at its centre, The William Hill Sports Book of the Year Award welcomes a diverse range of entries that showcase the passion and dedication of authors within the sporting realm.
The first William Hill Sports Book of the Year Award took place in 1989, making it the longest-established competition in the industry. Since launching, the competition has established itself as the pinnacle of recognition for sports writing and each year the Award honours the finest works that captivate readers, unravel untold stories, and offer fresh perspectives on the world of sport.
Last year saw a record breaking 158 books entered by athletes and authors alike, including sport-stars Patrice Evra, Anyika Onuora and Claire Shine, as well as last year's winning sportswriter, Jeremy Wilson.
Following a rigorous judging process from a panel of journalists, authors, sportspeople and industry leaders, the longlist will be announced in September 2023, with the shortlist unveiled in October. The overall winner will be revealed on 30th November 2023 at an official awards ceremony held at BAFTA, 195 Piccadilly, London. As well as the winning £30,000 cash prize, all shortlisted authors will each receive £3,000 and a leather-bound copy of their book.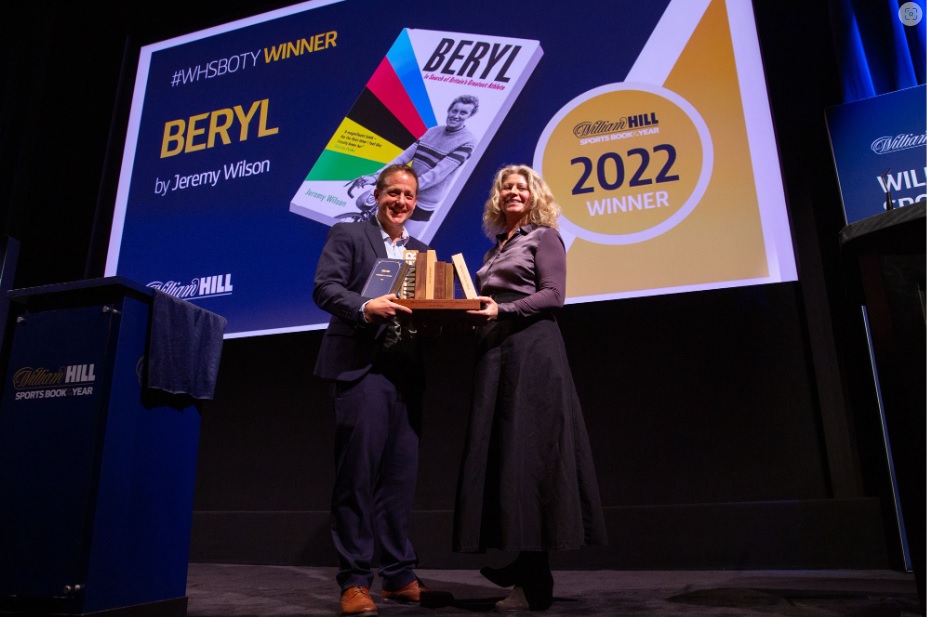 Image: Jeremy Wilson, winner of The William Hill Sports Book of the Year Award 2022 with Alyson Rudd, Chair of Judges
Book review panellist and renowned sports broadcaster, Matt Williams said: "The William Hill Sports Book of the Year Award is dedicated to rewarding excellence in sports writing and for three decades has provided authors and publishers a platform to showcase and promote their book and reach a wider audience.
"We have already received a large number of fantastic entries this year and I've thoroughly enjoyed reading each and every book that has been submitted so far – it's going to be a hard year to whittle them down to a longlist."With only a few weeks left to enter we urge any author or publisher who has launched their sports book since 2nd September 2022 – and that includes book due for release before 1st September this year – to consider entering this year's Award to be in with the chance of being crowned our 2023 winner.
"We're not necessarily looking for best-sellers, we're interested in rewarding authors based on their writing and whether their book captivates the reader, providing a platform to celebrate those who spend time and effort creating great sporting literature."
Entries close on 18 August 2023. For more information about the William Hill Sports Book of the Year Award and to enter, please visit: https://news.williamhill.com/sport/sports-book-of-the-year/