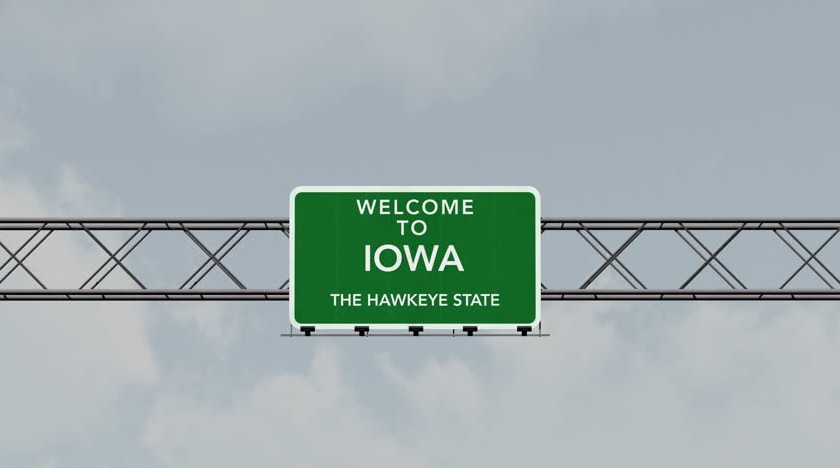 Iowa posted a record sports betting handle for the second consecutive month in October, as the Iowa Racing and Gaming Commission on Monday reported $81.9 million in wagers were accepted.
All but one of Iowa's 18 casinos offered some form of mobile sports betting, which also contributed to a record handle in that category of nearly $56.9 million. Bettors in the Hawkeye State surpassed September's high-water mark of $72.4 million – largely attributable to the unprecedented convergence of pro sports being played due to the COVID-19 pandemic — by more than 13 percent.
And it was a record month for the sportsbooks, which collected nearly $9.1 million in revenue among them, accounting for a hold of 11.11% — the highest margin since a 12.17% win rate in October 2019. That resulted in a one-month high for tax revenues collected as the state coffers received nearly $613,000.
The previous high was more than $380,000 collected in October 2019. Iowa, which has one of the lowest sports betting revenue tax rates in the nation at 6.75%, has collected more than $3.1 million since launching in August 2019.
Even with the addition of Harrah's and Horseshoe launching online sports betting on Oct. 21 — both operating through William Hill — the two Council Bluffs-based casinos combined for only approximately $300,000 of the mobile handle. Further, the percentage of mobile handle in relation to the overall handle held roughly steady at 69.46% — Iowa bettors placed 69.07% of their wagers online in September.
Both casinos, though, are also on the western side of Iowa and near the Nebraska border. The IRGC does not break out handle by sport, but the return of Big Ten football appears to have played some role with Iowa and Nebraska beginning their respective seasons Oct. 24. Harrah's more than doubled its handle month over month to $240,960, while Horseshoe reported a 32.1% increase with a handle just shy of $4 million for October.
With Harrah's and Horseshoe now operating under William Hill, the English-based sportsbook expanded its market share in Iowa. Its six properties accounted for more than $34.5 million in handle, which was 42.2% of the state's total compared to its September combined handle of nearly $28.4 million for 39.2%.
Prairie Meadows alone nearly reached $20 million in handle for October, and its mobile/internet handle of almost $18.4 million represented 32.3% of the state's online wagering.
After taking a beating in February, when Iowa sportsbooks recorded a hold of 1.3% in large part due to the Super Bowl, they showed in October they could throw a punch, too. Twelve of the 18 sportsbooks recorded a double-digit win percentage, with Grand Falls Casino posting a 16.22% hold on nearly $2.1 million overall handle.
Ameristar II (15.10%) and Rhythm City (14.47%) rounded out the top three books for hold, while Q Casino was the only sportsbook where bettors came out relatively unscathed — its hold was just 2.46% on nearly $2.1 million in bets placed and the only place reporting a hold below 6.5%.