September app downloads remain strong through football season.
Based on Sensor Tower data, US sports betting app downloads grew ~183% y/y in Sept. The excitement around several new states launching OSB (AZ & WY launched, CT & LA launching soon) along with a noticeable increase in marketing dollars (i.e. TV ads) from betting operators were likely key contributors to outsized growth. The growth is higher than GeoComply volumes that were up 106% y/y in Sept (86% excluding AZ). When we look at preliminary October data (only two days), the app download volume trends are similar to last month, up 161% y/y.
Since our last app download analysis through 9/12, we have seen a handful of market share changes. In our Sep 14 note, DKNG/Fanduel had seen app download share for Sept MTD at 30%/23% respectively, up from 30%/20% in Aug but down from 37%/29% in Jul. The two saw final Sept share recover further to 32%/27%. BetMGM lost some share vs. our prior note (12% share vs. 14% previously) but was above Aug 11%. Similarly CZR share dropped to 12% from 14% previously, was down from 18% in Aug when CZR launched its new re-branded sports book, but up from prior months 5-7%. PENN (Barstool) saw a more significant decline with Sept share of 7% vs. 13% in our prior report. Barstool saw a healthy one-time mkt share pop to 12% in Aug (~18% mkt share last week of Aug) likely due to it entering CO, VA, NJ and starting to promote ahead of its launches in AZ & TN. However, as football season has progressed, we've seen PENN (Barstool) move back towards its historical average of mid- to high single-digit share (8% last week of Sept vs. 5-8% months prior to Aug). WYNNBet is at ~3% mkt share this month, similar to our last update.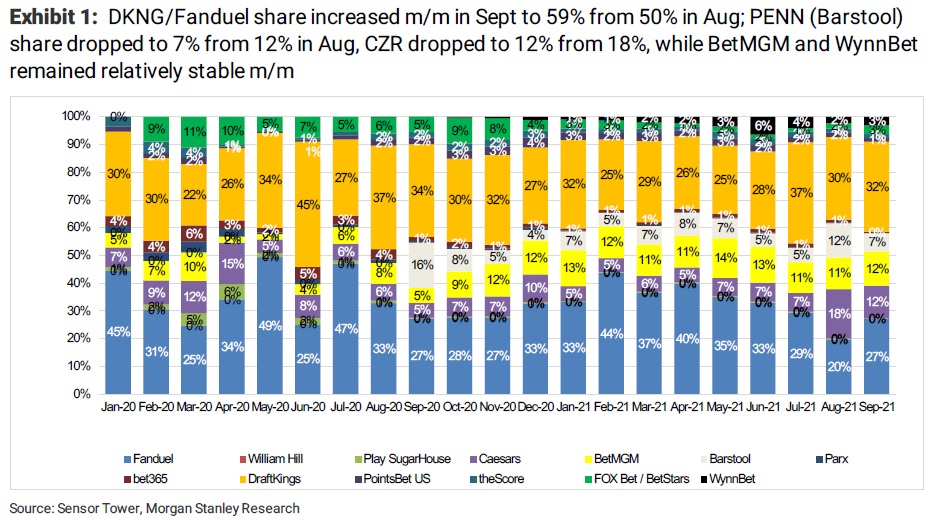 Note preliminary Sensor Tower data is subject to restatements by as much as 50% within a week period. Results reflect restated Sensor Tower app download data and adds/removes certain apps from prior analyses. Everything we discuss in this report is comparing apples to apples.
Morgan Stanley & Co. International plc ("Morgan Stanley") is acting as financial advisor and corporate broker to Entain plc ("Entain") in relation to the proposal received from DraftKings Inc. for the acquisition of Entain, as announced on 21 September 2021. Entain has agreed to pay fees to Morgan Stanley for its financial services. Please refer to the notes at the end of the report.