Clarion Gaming, organisers of iGB Live! and the co-located iGB Affiliate Amsterdam, which are being held at the RAI, Amsterdam (28 September – 1 October) has confirmed that fully vaccinated attendees travelling from the UK will qualify for a special travel ban exemption and will be eligible for exemption from the quarantine obligation on arrival in the Netherlands. Qualifying UK visitors join those from the EU alongside many other non-EU countries including Israel, the US and Ukraine in not having to quarantine.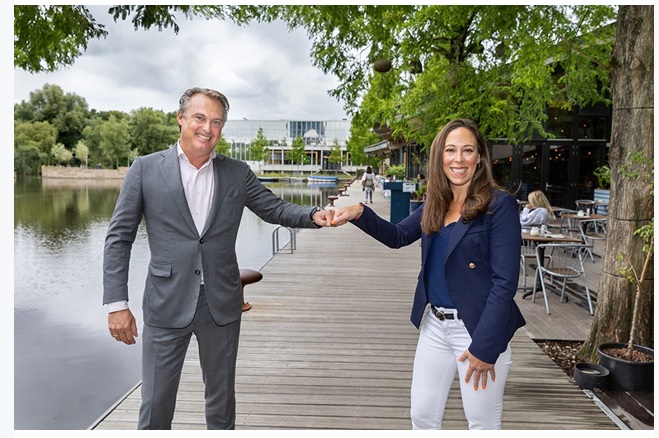 Image: iGB Live! Portfolio Director Naomi Barton with Maurits van der Sluis, COO at the RAI pictured in Amsterdam
Portfolio Director Naomi Barton, who travelled from Heathrow to Schiphol on Tuesday 31 August to iron out the details with the RAI team including COO Maurits van der Sluis, explained the process for all British travellers which includes contractors, exhibitors sponsors and delegates. She said: "We have been in constant contact with the team at the RAI who have been working tirelessly to achieve a positive outcome for British travellers attending iGB Live! and iGB Affiliate Amsterdam.
"The RAI will be providing an official invitation letter which will have an editable space to include the traveller's name as it appears on their passport. No further action is required on the part of attendees and contractors other than to ensure that when they book their passes, the name matches the name on their passport. Once booked to attend iGB Live!/iGB Affiliate Amsterdam, a member of the Clarion Gaming team will be in touch with instructions on what they will need to do when travelling in order to confirm that they qualify for this exemption."

She added: "I wanted to be in Amsterdam to make contact with Maurits and the team at the RAI, and I am extremely pleased at the outcome, which represents a major advance as we enter the final month ahead of both shows opening."
Maurits van der Sluis, COO at the RAI, commented: "We are also delighted to see some light at the end of the tunnel. iGB Live! and iGB Affiliate Amsterdam are two key events on the RAI calendar and as I understand will be the first major in-person events to take place in the gaming industry for close to two years. It was a pleasure to host Naomi and I am pleased that the customer journey that she mapped-out was as smooth as possible. I look forward to welcoming delegates to the RAI in less than a month's time and I trust this news will provide the clarity and security so that attendees can finalise their trips to Amsterdam."