GLENDALE, ARIZONA (February 7, 2023) – On the heels of a record-setting growth trajectory in 2022, Sports Gambling Podcast Network (SPGN) hosts Sean Green and Ryan Kramer will return to Super Bowl Radio Row this week, producing live shows for the Blue Wire Podcast Network at the National Football League's annual promotional extravaganza.
Two highlights of the week's activity come Thursday with Green and Kramer hosting a pair of open-to-the-public events at The Ainsworth, one of Phoenix's most prominent restaurants, a sports-centric destination located in the Collier Center next to the Phoenix Convention Center.  They will produce their Sports Gambling Podcast Live Show from 11 a.m. – 1 p.m. with previews, picks/analysis and fantasy sports talk featuring NFL-related guests and promotional attractions.
Beginning at 5 p.m., Green and Kramer will host the WynnBET Kickoff Party with a guest list that includes former NFL standouts Chris Long, Chad Ochocinco, Nick Mangold and Julian Edelman.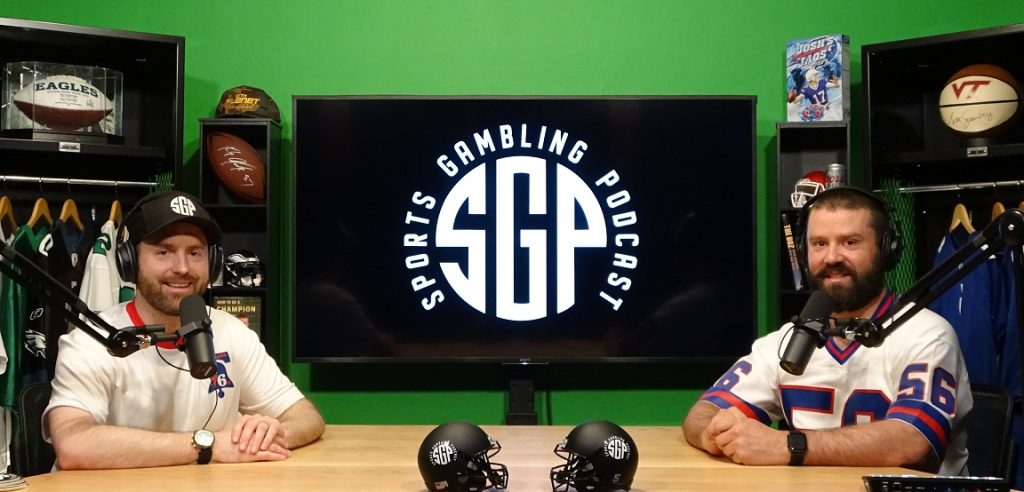 Green, a Philadelphia-area native, will provide deep-dive analysis on his hometown team at The Ainsworth Thursday and on Radio Row Wednesday and Friday, both out of BlueWire studio set-ups.  A regular contributor to the Pat Callaghan Show for JAKIB Media in Philadelphia, Green is among the Eagles experts who will also be doing media interviews for other outlets throughout the week.
To meet the challenge of providing 57 trackable picks on the Kansas City Chiefs-Philadelphia Eagles confrontation, Green and Kramer have immersed themselves in the prop markets with a promise to cover the most popular offerings.  Kramer is recommending "Blue" as the Gatorade color prediction, deducing that the +400 selection has value because blue is not in the color scheme of either team and the Gatorade color is selected by the NFL.
Both Green and Kramer are partial to the unders on Travis Kelce receptions (7.5) and receiving yards (80.5) because of their shared belief that Eagles coaches will call for heavy bracketing of the All-Pro tight end to neutralize the Chiefs' top pass-catching threat.
"The sports wagering industry is exploding and the Super Bowl is an extraordinary multiplier for all channels of interest," said Kramer, who specializes in using analytics to drive his selections.  "We appreciate the visibility of the BlueWire and WynnBet platforms as we join in on this biggest week of the year."
This past year, SGPN's 12th since the humble beginnings of a garage launch in 2011, saw tremendous growth in audience thanks to expansion to television streaming platforms with YouTube the most fruitful.  Over 600,000 YouTube views, eight million unique podcast downloads, 4.1 million website page views and over 12 million social media impressions characterize the SGPN phenomenon with strong growth projected for 2023.
 "This wave of interest continues to build and our formula of sophisticated, all-free content presented as entertainment has found a growing audience," said Green, who funded the business in 2017 with $200,000 he won in a fantasy football competition. "We hope to find some new followers this week as America's attention turns to the biggest game and the most widely viewed television event there is."
SGPN hosted the first-ever podcast in 2021 from the showpiece Blue Wire Studio at Wynn Las Vegas and they make regular visits to the studio throughout the year as major sports events come about.
About SGPN
Sports Gambling Podcast Network™ was established in 2011 as one of the first website/digital media platforms to provide consumers with a completely free entertainment experience featuring sophisticated insight and analysis with definitive wagering recommendations.  The scope of content includes the full spectrum of legally-available sports. Co-founded by sports and entertainment personalities Sean Green and Ryan Kramer, it is home to the Top 40 All-Time football podcast (per Chartable.com) Sports Gambling Podcast, one of 30 separate podcasts.  The website, www.sportsgamblingpodcast.com, boasts over 60 contributors delivering editorial content, social media postings, and expert guest analysis for countless media members and consumers who have grown to trust the SGPN banner. The platform generates millions of unique page views per month, the Sports Gambling Podcast was downloaded over 8 million times in 2022, and it has become a primary destination for the burgeoning population of sports fans across America and around the world. In addition to his stand-up comedy act, Green is an accomplished TV comedy and script writer with credits including MTV's Ridiculousness and Nickelodeon's Crashletes with Rob Gronkowski. He has also anchored several sports wagering and fantasy sports shows for SiriusXM and ESPN+.  Kramer is a SiriusXM contributor and a sports wagering marketplace influencer who specializes in NFL game prop bet predictions. He has multiple top finishes in the Fantasy Football Players Championship (FFPC) Main Event. SGPN is a member of the Fantasy Sports Gaming Association (FSGA).