LOS ANGELES, Calif. (November 9, 2021) – Sports Gambling Podcast Network (SGPN) college sports handicapping expert Colby Dant will make a total 593 selections against the spread on college football and college basketball contests, in accordance with the slate of FBS and Division I basketball games in place for November 14-20.
With college basketball teams swinging into action across the country while the college football season continues apace, Colby Dant, his brother, Nick, and Patty C  will produce the Week 12 College Football Experience podcast and add The College Basketball Experience podcast in addition to posting their picks on SportsGamblingPodcast.com for the myriad SGPN audiences (CFB picks, CBB picks).  Dant has spearheaded the selection of every game over the past four years and boasts a success rate well above industry standards during that time.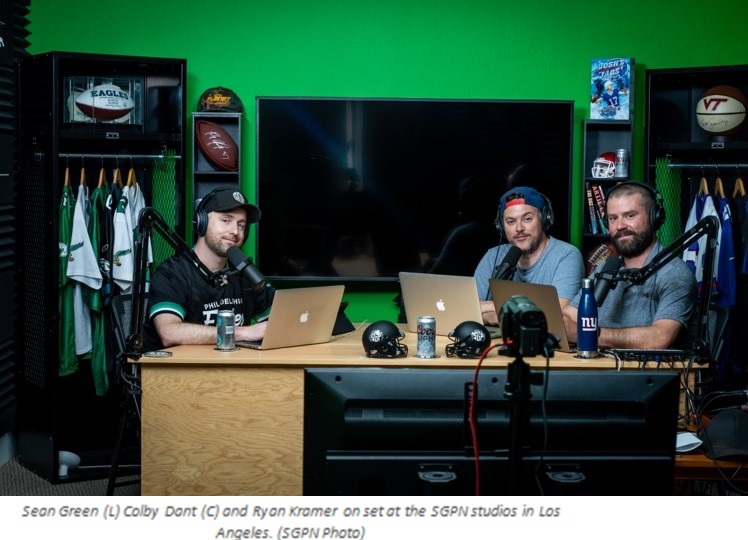 The commitment to providing input and a pick against the spread for each major college game is part of the exhaustive approach of Sports Gambling Podcast Network (SGPN), the only independently owned and operated sports gambling media network that places a premium on entertainment value.  The predictive podcasts are most readily available on the SGPN app, downloadable at Apple's App Store, The Google Play Store , and from www.SportsGamblingPodcast.com.
"It is, by far, the craziest week of the year," offered Dant, who is 31 games over .500 on college football prognostications this year.  "Though it breaks my heart, the college football slate slows down as Thanksgiving week arrives.  That allows for a transition of focus to the hardwood, where there are great wagering opportunities because the oddsmakers will be putting up unsophisticated lines.  So, join us and we'll give you some early-season college BBall winners."
"We just sit back in amazement," said Sean Green, co-founder with Ryan Kramer of SGPN's formidable lineup of sports wagering content offerings.  "The college podcasts are among our most popular, so we're expecting traffic increases as the audiences join Colby in embracing the simultaneous hardwood action."
In prominent college football games this week, Dant likes four underdogs to cover, as posted on the website.  He has homestanding Pitt +6.5 over North Carolina, Michigan +7.5 at Penn State, Tennessee +22 hosting Georgia and Purdue +23.5 at Ohio St.  Among his season over/under win total predictions that cashed by midseason was South Carolina over 3.5 wins.  The Gamecocks are now 5-4 after their dismantling of Florida Saturday night.
The SportsGamblingPodcast hosted by Green and Kramer is consistently ranked among the top 50 football podcasts in the country and ascended to 68th this month in Chartable's listing of offerings in the Global Sports Reach category.
***********************
 About SGPN
Sports Gambling Podcast Network™ was established in 2011 as one of the first website/digital media platforms to provide consumers with an entertainment experience featuring sophisticated insight and analysis plus definitive wagering recommendations and selections across the full spectrum of legally-available sports. Co-founded by sports and entertainment personalities Sean Green and Ryan Kramer, it is home to the Top 40 All-Time football podcast (per Chartable.com) Sports Gambling Podcast, one of 11 separate podcasts.  The website, www.sportsgamblingpodcast.com, boasts over 45 contributors delivering editorial content and social media postings under the SGPN banner.  The platform generates millions of unique page views and podcast downloads annually and remains a primary destination for the burgeoning population of sports fans across America and around the world. In addition to his stand-up comedy act, Green is an accomplished TV comedy and script writer with credits including MTV's Ridiculousness and Nickelodeon's Crashletes with Rob Gronkowski.  He has also anchored several sports wagering and fantasy sports shows for SiriusXM and ESPN+.  Kramer is a SiriusXM contributor and a sports wagering marketplace influencer who specializes in NFL game prop bet predictions.  He has multiple top finishes in the Fantasy Football Players Championship (FFPC) Main Event. SGPN is a member of the Fantasy Sports Gaming Association (FSGA).