The future of legal sports betting in Massachusetts could be determined this week when a long-awaited bill comes up for debate in the state Senate more than nine months after a similar bill passed in the House.
The competing Bay State bills would allow sports betting for those over 21 on professional and other events. Multiple obstacles could prevent a single bill passing both bodies and reaching Gov. Charlie Baker's desk before the end of the current session on July 31.
Differences between House & Senate bills presented: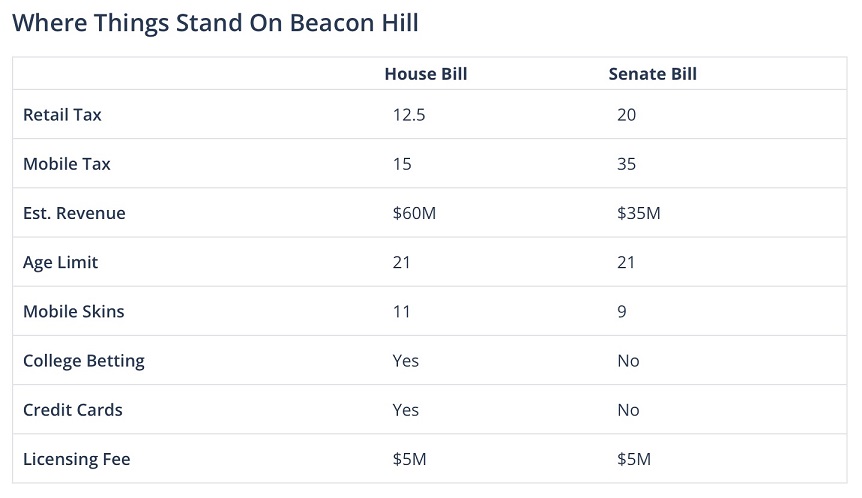 Other Updates:
The biggest difference between the two bills, and the biggest potential deal-killer is the complete lack of college betting in the Senate bill. That was a nod to the eight colleges and universities in the state with Division I college sports programs, who issued their opposition to legal betting in 2020.
Sen Eric Lesser (D-Longmeadow) has championed the cause for sports betting in the General Court's upper-body. It was mainly his bill that advanced to the floor for debate this week. Lesser has said the possibility that someone "who might have an addiction issue" could "impulsively run up huge credit card bills from their couch" remains a concern for him and others in the Senate.
Sports betting in Massachusetts has the joint support of the Boston Red Sox, Celtics, Bruins, New England Patriots, Revolution, the PGA Tour and NASCAR. In addition, Boston-based DraftKings has long sought a betting skin in its home state. WynnBET and BetMGM have brick-and-mortar casinos in Everett and Springfield, respectively.
See full Bookies.com analysis here: https://bookies.com/news/massachusetts-sports-betting-2022-legislation