Online Virginia sportsbooks set the record for the fastest US market to hit $2 billion in handle with a record October.
Handle hit $427.3 million in October, crushing September's handle by 45.4% and topping the previous record of $304.1 million set in March by 40.5%.
October pushed total handle at Virginia online sportsbooks to $2.4 billion since they launched mid-January, breaking the $2 billion threshold in just over nine months.
Sports betting revenue was $30.2 million in October, good for a 7.1% hold. That was just shy of the $30.9 million record hit in September after bettor-friendly results in October.
Only three of the nine operators live in October reported net positive adjusted gross revenue. That led to $1.7 million in taxes paid.
Virginia sportsbooks still heavy on promos
It is NFLbetting and college football betting season, so it's no surprise promos are flying.
Operators paid out more than half of the gross revenue – $15.8 million – in bonuses and promos for October. That pushed total deducted promos to more than $90 million since launch.
After another nearly $4.6 million in other deductions, adjusted gross revenue dropped down to $9.8 million, according to the report.
VA one of many to set handle record in October
October was the perfect month to see handle records in US online sports betting. Along with NFL and college football dominating tickets, there were five full Friday through Sunday weekends in the month.
That's led to the best month for betting handle by far: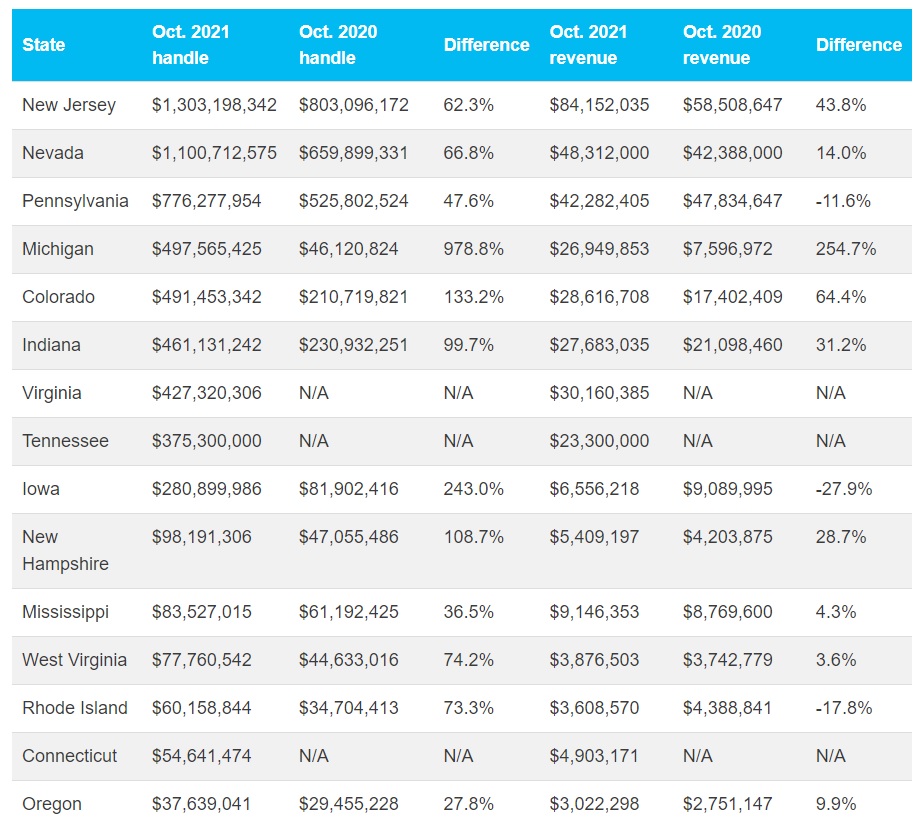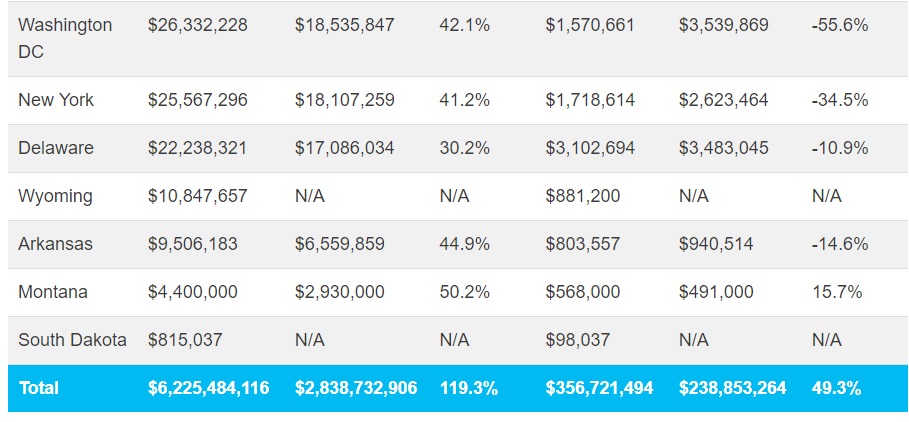 Handle is already more than $1 billion higher than September's then-record of $5.2 billion. Neither month is done, though: Illinois still needs to report its October results while Arizona has not even published September's report yet.
More Virginia sportsbooks coming soon
Virginia looks like it will have one of the hottest inaugural years in terms of handle – and it is not even done rolling out yet.
The tenth sportsbook in the state, Bally Bet, launched just before Thanksgiving. There are also five more sportsbooks left to launch:
888's SI Sportsbook
Betway
PointsBet
Two more unannounced licensees
Source: LegalSportsReport.com