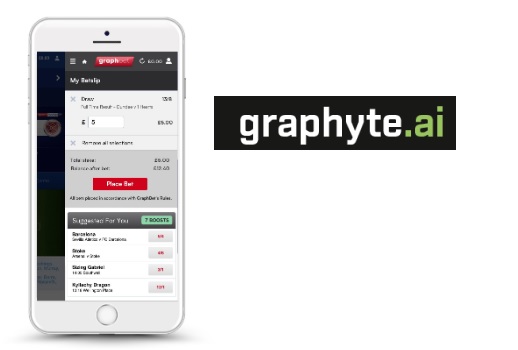 London – 16th September 2019 Graphyte, the real-time personalisation engine for the betting and gaming industry, today launched Intelligent Layouts, a revolutionary new product extension enabling operators to deliver completely personalised web and app experiences for every customer.
With Intelligent Layouts, operators can automatically tailor every element of its offering to each player's preferences, ranging from personalised navigation and menus, sport and game categories, promotions, banners and new game launches, leading to an entirely unique mobile and desktop site layout for every customer.
Intelligent Layouts sits on top of existing CMS or back-end platforms, reading in available content on site and matching it at scale to players, using a machine-learning framework built on a deep profile of each user's play and browsing behaviours. The flexibility of Intelligent Layouts ensures that operators can control the level of dynamic content, and can choose to fix curated content on events, new games and banners, whilst personalising the remainder of the experience.
Damien Evans, co-founder of Graphyte, explains "When we started Graphyte, our mission was to create the technology to change the one-size-fits-all model so prevalent in betting and gaming, to a one-size-fits-one model that seems so natural and obvious in other sectors like e-commerce. With Intelligent Layouts, we've built the capability for every operator to make the experience unique for every one of their customers. As an operator, you'll know that every part of your site is tuned to the preferences of each player – all updated and managed in real time. As a player, the experience is transformed, the games and product categories you like to play (or those that you are very likely to enjoy) are always front-and-centre, and it doesn't stop there: promotions you might have missed, new game launches and events and price boosts in sports can all be brought to the fore with Intelligent Layouts. It's incredibly powerful and the early results we've seen from operator trials have been extraordinary"
With Intelligent Layouts, operators can:
Personalise their entire mobile web, app or desktop site for each customer, including navigation, menus, banners and promotions pages
Create a hyper-personalised, Netflix-style experience on gaming sites, arranging and ranking games by flexible categories including themes and game types – all fully tuned to each user's preferences
Seamlessly integrate real-time product recommendations from Graphyte's Recommend engine, and layer on top of core gaming 
Control the level of personalisation, prioritise their own curated events, offers and price boosts in sports
Ensure that the most relevant categories and the games and/or sports content within them are always surfaced first for players
Rank and order bingo rooms alongside traditional casino and slots products with dedicated functionality for Bingo operators
Manage dynamic refresh rates to ensure a consistent user experience
About Graphyte.
Graphyte is the real-time, cloud-based personalisation platform built for the betting and gaming industry. Operators across sports betting and gaming use Graphyte's Personalise platform to serve product recommendations, dynamically personalise their web and native sites and engage customers in real time through existing marketing channels. Graphyte applies advanced machine learning to bet, gameplay and browsing activity in real time to make every interaction with a customer relevant and in-the-moment.
Graphyte Contact: Damien Evans CEO damien@graphyte.ai +44 7734 456 312 https://graphyte.ai