LOS ANGELES, CALIF. (October 4, 2022) — The Sports Gambling Podcast Network (SGPN),  a leading independent and free sports wagering analysis and prognostication content provider, achieved a company record of 1.1 million podcast downloads in the month of September.
That is more than twice (2.44x) the number of downloads experienced in September of 2021 and the audience increase is reflected in rankings on Chartable.com and Tallysight.com as the growth continues to outpace industry standards. SGPN's flagship podcast, The Sports Gambling Podcast, peaked as the 12th-ranked sports podcast on Chartable and SGPN's College Football Experience personalities are among the best prognosticators in America on TallySight.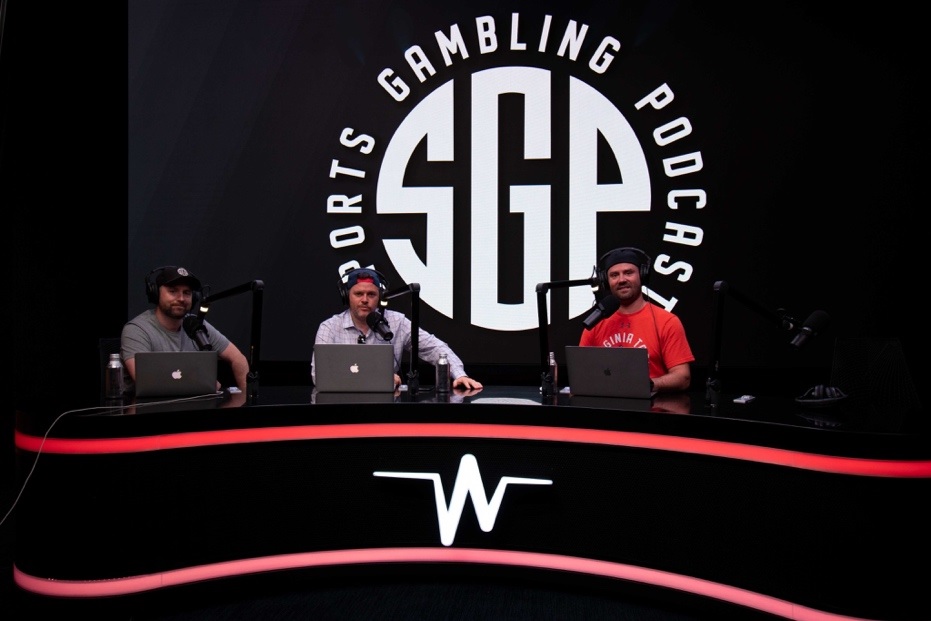 Thanks to the strong September showing, SGPN has over 5.5 million downloads already this year, which surpasses a calendar-year best of just over three million set in 2021.
"We have kicked our growth into overdrive this past year," said SGPN co-founder and CEO Sean Green. "Both WynnBet and BlueWire have been great partners from an exposure and opportunity standpoint. With BlueWire, we reach a larger audience and we love interacting with fans at the BlueWire Studio at Wynn Las Vegas.  WynnBet's support enables us to produce more content than our competitors to highlight their awesome platform."
SGPN's free-to-the-user business model provides entertaining video and audio picks and analysis content that has proven to bring back the audience time and time again, as indicated by the record download numbers and the growing advertising base. All content that SGPN produces is widely-available at no cost and not hidden behind subscription paywalls and teaser clickbait links, like many of its competitors.
"The combination of red meat picks and analysis plus our entertaining presentation is working, especially with the heightened interest that football season brings," said SGPN co-founder Ryan Kramer. "Our experts are delivering uncommon accuracy with their selections.  We're getting word of mouth traction and the marketplace of advertisers is taking notice, also."
According to Tallysight, a site that follows and charts prognosticator picks, SGPN's Nick and Colby Dant have been ranked 1st and 2nd, respectively, in their picks on the College Football Experience podcast in the early season competition.
Sports wagering content is expected to be the next boom in the marketplace. The American Gaming Association (AGA) recently announced that it estimates over 46.6 million Americans will wager on the current NFL season, an increase of 18 percent from last year. Currently, 32 states plus the District of Columbia allow sports betting with Connecticut, Kansas, Louisiana, Maryland and Wisconsin launching since the start of the 2021 NFL season. Additionally, Americans have legally wagered more than $50.4 billion on sports in the first seven months of 2022, generating more than $809 million in federal, state and local taxes, according to the AGA. These growing audiences are always looking for an edge and entertaining content.
The record number of downloads highlights a successful 10th anniversary year for Green and Kramer. SGPN kicked off its anniversary celebration by broadcasting from Radio Row during Super Bowl LVI festivities and opening a state-of-the-art studio at the Los Angeles headquarters. Green and Kramer then announced a new partnership with BlueWire, which has the duo broadcasting the network's flagship show, The Sports Gambling Podcast, from the BlueWire studios at the Wynn on a regular basis. SGPN was then named a finalist for the Sports Media Company of the Year by SBC, and most recently launched SGPNTV on popular streaming services AmazonTV, AndroidTV and RokuTV.
SGPN has grown to over 60 contributors and nearly 30 sports betting podcasts that cover all the major sports around the world.
About SGPN
Sports Gambling Podcast Network™ was established in 2011 as one of the first website/digital media platforms to provide consumers with an entertainment experience featuring sophisticated insight and analysis plus definitive wagering recommendations and selections across the full spectrum of legally-available sports. Co-founded by sports and entertainment personalities Sean Green and Ryan Kramer, it is home to the Top 40 All-Time football podcast (per Chartable.com) Sports Gambling Podcast, one of 30 separate podcasts.  The website, www.sportsgamblingpodcast.com, boasts over 60 contributors delivering editorial content and social media postings under the SGPN banner.  The platform generates millions of unique page views and podcast downloads annually and remains a primary destination for the burgeoning population of sports fans across America and around the world. In addition to his stand-up comedy act, Green is an accomplished TV comedy and script writer with credits including MTV's Ridiculousness and Nickelodeon's Crashletes with Rob Gronkowski.  He has also anchored several sports wagering and fantasy sports shows for SiriusXM and ESPN+.  Kramer is a SiriusXM contributor and a sports wagering marketplace influencer who specializes in NFL game prop bet predictions.  He has multiple top finishes in the Fantasy Football Players Championship (FFPC) Main Event. Both appear regularly as guests on sportstalk radio and television outlets as experts on football and other sports. SGPN is a member of the Fantasy Sports Gaming Association (FSGA).