Sports Betting Operator chats to Harry von Behr, Managing Director (Sport) & US Co-CEO, Spotlight Sports Group. By Victor H. Royer
Harry is responsible for the Sports division at Spotlight Sports Group, and is Co-CEO of the US business. Spotlight Sports Group is a world-leading technology, content and media business specializing in sports betting, horseracing and fantasy sports. Evolved from the Racing Post Group, Spotlight Sports Group engages millions of people directly through Racing Post, Pickswise, Fantasy Alarm, Free Super Tips and myracing. The company also has decades of experience in powering growth and conversion for the world's biggest sportsbooks and media companies, delivering best-in-class technology and expert content experiences in more than 70 languages.
Harry, first I want to thank you for taking the time to speak with me. As you know, Casino Life Magazine, Sports Betting Operator Magazine, and Outsource Digital Media take great pride in interviewing leading Gaming Industry professionals and Senior Level Management members to better understand both the companies that they work for or own, as well as what the key attributes are for their success. Please tell our readers a bit more about yourself, and your role at Spotlight Sports Group.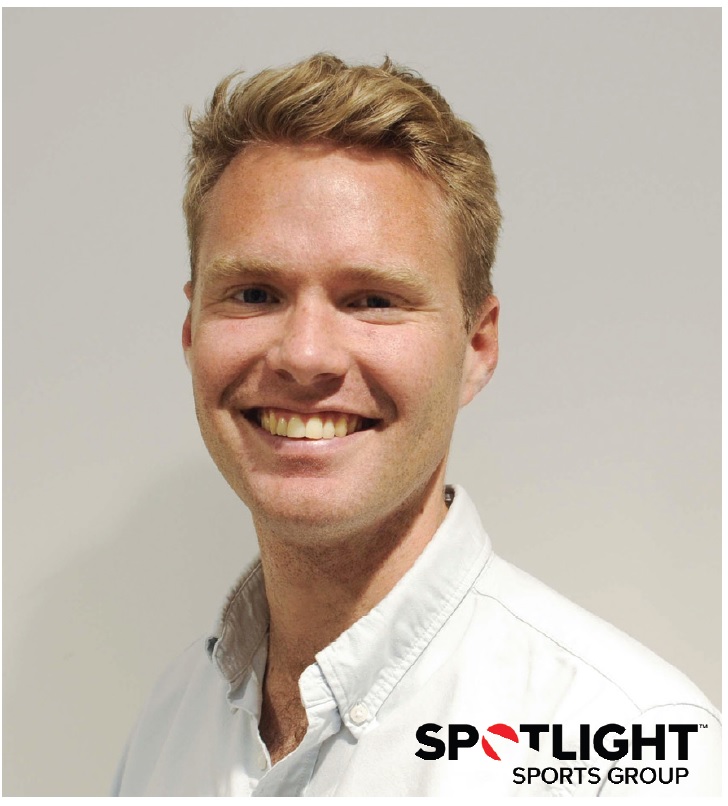 Image: Harry von Behr, Managing Director (Sport) & US Co-CEO Spotlight Sports Group
I've been with Spotlight Sports Group for four years. I initially joined to oversee our M&A and partnership activities, but for the last 18 months have been responsible for our Sports division, which includes all of our North American operations. Prior to joining Spotlight, I worked as a consultant to private equity funds. I absolutely love sport, so I jumped at the chance to get into the sports betting business when the opportunity arose. I'm based in London, but have a large and expanding team in the States.
Please tell our readers more about the Spotlight Sports Group and the services provided to your clients, and to players.
Spotlight Sports Group are the experts in sports betting, horseracing and fantasy sports. We engage millions of bettors on a daily basis on our own suite of brands (Pickswise, Racing Post, Fantasy Alarm, FreeSuperTips and myracing) and through working with the biggest sportsbooks and media publishers globally.
Having over 35 years of experience in the sports betting industry, we know how to create value, move with the changing needs of sports betting and fantasy sports players, and drive the industry forward through innovative product technology. Within our suite of products, we deliver full turnkey sports betting solutions to publishers, expert integrated handwritten content to sportsbooks and industry-leading video production to grow our partner's reach.
How many Sports-related businesses do you have worldwide?
We own and operate a number of recognized brands in sports betting, horseracing and fantasy sports.
We have two major North America-focused media sites, Pickswise.com and FantasyAlarm.com, while in Europe we own a further three major sports betting affiliates, RacingPost.com, FreeSuperTips.com and myracing.com. We also recently launched a joint venture in Spain with Diario AS – Apuestas.AS.com.
On the B2B-front we have clients across Europe, North and South America and AsiaPac, so we are a truly global business.
Who are your clients? Please tell us more about how you work with your clients?
We support the biggest sportsbooks and publishers across the globe to help them to transform their sports betting proposition. With over three decades of experience as a leading publisher ourselves, we understand how to unlock the value of traditional and sports media audiences, and we now do that for others, including the likes of Advance Local and NBC Sports Edge. We have a range of solutions from betting and fantasy editorial, through to full turnkey website solutions such as Apuestas.
We work with all of the major sportsbooks in North America and Europe, including but not limited to bet365, SkyBet, DraftKings, Fanduel and BetMGM, delivering them valuable customers through our affiliate network as well as providing B2B services to help them to better engage and monetize their audiences.
What is Pickswise? And please also tell our readers about Fantasy Alarm and DFS Alarm.
Pickswise is our leading sports betting content outlet in North America. Launched in 2019, it has quickly become one of the largest sports betting media properties in the market providing our users with expert analysis, content and data covering more than 50,000 sporting events year-round.
The Pickswise platform receives well over 1 million unique users on a monthly basis, and alongside its state-of-the-art app and leading social media platforms it has provided sports bettors with the best free sports betting advice in the market. As a testament to the trusted content it produces, the Pickswise Twitter account surpassed 200k total followers at the end of February.
Fantasy Alarm and DFS Alarm were acquired in September of 2021 as part of our acquisition of Alarm Sports Network. The sites have provided leading season-long and daily fantasy content since 2011. They are a one-stop-shop for fantasy managers given their elite content and analysis. The platforms provide free and premium content as well as their extremely popular fantasy playbooks, which offer in-depth analysis for each sport's upcoming fantasy season. In addition to the content, the websites have industry-leading engagement tools that help users analyze, trade, identify potential draft picks and optimize their lineups using proprietary empirical data.
What are FreeSuperTips and myracing
In 2018 we expanded our European affiliate marketing presence, by acquiring Apsley Group International which owned two hugely successful affiliate brands – FreeSuperTips and myracing. FreeSuperTips is a leading free sports betting tipping site. Grown from a huge social media presence, the site delivers the industry's best soccer and cross-sport predictions. myracing is the home of free horseracing betting tips. The experts at myracing provide the best analysis for each day's races, providing detailed racecards and fast results.
Both sites are integrated with the leading sportsbooks in the UK and produce video content on a weekly basis to engage their current audience and activate sportsbooks marketing campaigns.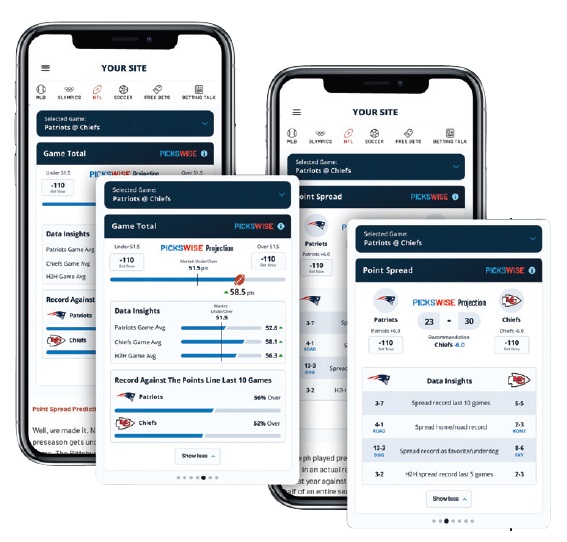 Your company began in 1986 with the Racing Post newspaper in the UK and Ireland. Please share some of the early growth of the company, and how it became the Spotlight Sports Group of today.
Today's business is built on the foundation of the work done over the last 30 years. The Racing Post was launched to give the UK and Ireland a dedicated horseracing and betting daily newspaper, and we have worked with sportsbooks in a B2B capacity since the mid-90s.
After digitizing the business through the 2000s, in 2009 Racing Post redefined its proposition from being a traditional publisher to becoming an acquisition and retention super-affiliate. The Racing Post app was turned into a frictionless betting experience, allowing customers to consume data, read content, get free picks and place bets through their existing sportsbook accounts without leaving the platform.
This opened a new revenue stream for the business, resulting in significant digital growth. Through acquisitions and product launches in the 2010s we grew our reach, culminating in the launch of our North American business in 2018 following the repeal of PASPA.
We still produce a daily newspaper, the Racing Post, which has a huge following in the UK and is still the number one destination for horseracing for owners, trainers, media and bettors, however our business is now incredibly diverse and our reach is far more global than when we began on this journey How is Spotlight Sports Group positioned in North America?
Much the same way as we've grown in Europe, we send valuable customers to sportsbooks and DFS operators through the likes of Pickswise and Fantasy Alarm, as well as working with Publishers and Sportsbooks to help them better engage and monetize their own audience. This is done through the provision of turnkey sports betting platforms, the betting intelligence and data, smart content modules, and free-to-play games. For sportsbooks we supply our industry-leading content engine, Superfeed, which is an API integration powered by Pickswise betting insights.
Essentially, we're experts in unlocking audience value for sportsbooks and publishers, and having grown Pickswise into the largest independent sports betting content platform in North America, we believe we're extremely well positioned as new states in the U.S. and provinces in Canada regulate.
Do the operations of Spotlight Sports Group extend beyond Ireland, UK, North America, and Europe? If yes, where and how do you provide these services?
Yes, we recently launched a groundbreaking media partnership with Asian media business, Sky City. In this partnership, we are delivering turnkey sports and racing solutions, powered by proprietary data sets, AI and smart content modules.
We also have long-standing partnerships with a number of overseas clients including the likes of the Hong Kong Jockey Club.
What do you consider is the most innovative aspect of your operations? What sets your company apart from others in the UK, USA, and elsewhere?
Our knowledge, experience, proprietary content and tech capabilities really sets us apart from other businesses. We have done it for our own assets, and now we are harnessing this for our partners to develop fully integrated, seamless sports betting experiences for North American and European publishers.
The combination of all these capabilities from a single provider is unique, which I believe makes it truly innovative.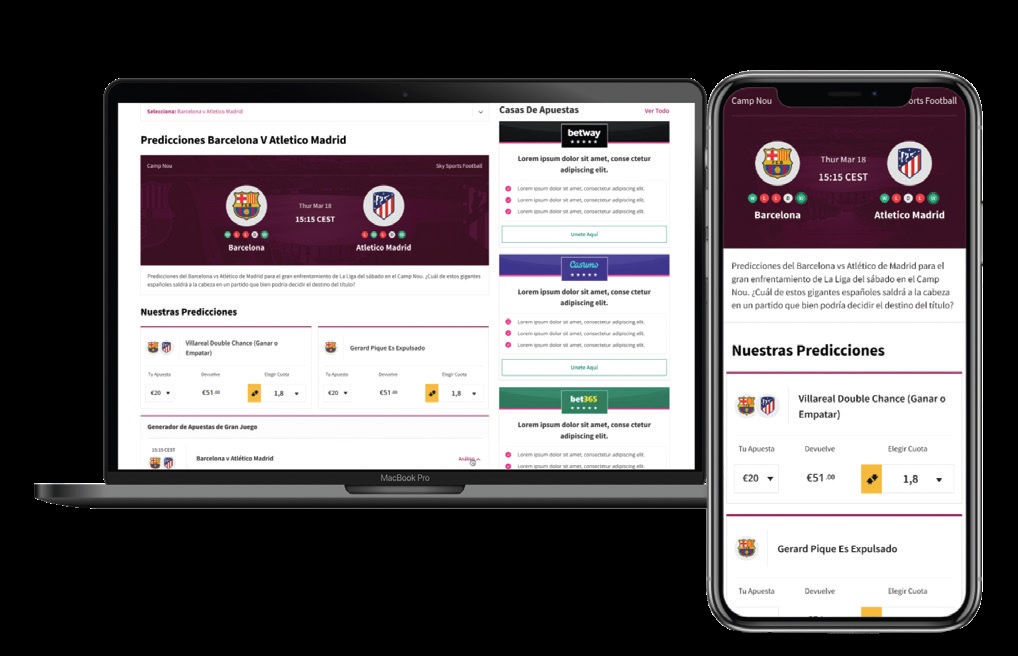 Is there anything else you'd like our readers to know?
Spotlight Sports Group is growing rapidly across Europe and North America, helping both publishers and sportsbooks transform their offering and really drive customer engagement. We're delivering best-in-class technology and expert scalable content experiences in more than 70 languages, so please do reach out to discuss our product offering and how we can create distinctive betting experiences for your customers.
Finally, in your career, what would you consider to be the highlights up to now?
Being involved in the sports industry for the last four years has been a highlight – doing what you enjoy for a living is a privilege. As part of that, overseeing the successful growth of Spotlight in North America during the last two years – from launching Pickswise organically, to acquiring and integrating Alarm Sports Network – has to be one of my high points.
On behalf of Casino Life Magazine, Sports Betting Operator Magazine, and Outsource Digital Media, I would like to thank you, Harry, for your time, and for sharing this with us and our many readers worldwide.
Interview originally published March 2022 edition Sports Betting Operator Magazine