Geoffrey Bough, Vice President of Interactive Marketing at Parx Casino. Interview by Peter White
Sports betting is all the rage in Pennsylvania, where it has generated $1.5 billion in wagers since its inception—$342.5 million in December alone. One of the key players in this breakout is Parx Casino, which leads the Keystone State every month in slot revenue, making it the frontrunner among Pennsylvania casinos. Pennsylvania "is beginning to succeed where it wanted to most: making sports betting a significant revenue driver for the state," says sports-betting analyst Dustin Gouker, "Its tax rate is significantly higher than every other state, which has slowed the industry's growth. But Pennsylvania is the most populous state to fully legalize sports betting, and that has proven to be too enticing for operators to ignore." Against the background of that bull market, Casino Life caught up with Parx's vice president of interactive marketing, Geoffrey Bough. We began with the nerve center of Parx's new revenue stream, its high-tech sports book …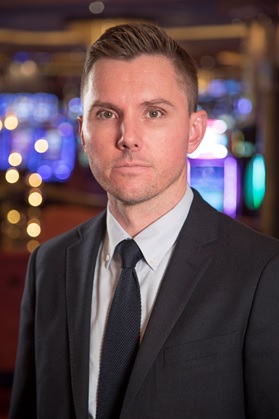 2019 was a big year for Parx Casino, as it opened its 24-hour sports book featuring a massive $1.5 million 156-foot, high-definition HD media wall capable of displaying 36 games at once, three VIP areas, and a 38-foot by 14-foot bar. Plus there's seating for 200 guests, six live teller stations and a full menu of cocktails, wines and beers. Food options include burgers, including the vegan Impossible burger, cheesesteaks and more. With a price tag of $10.5 million to build, that all adds up to one superb sports betting experience!
What has it been like to be involved in such a significant and impressive project?
It's been an immense amount of fun, especially for someone like me who loves sports and sports betting. Who wouldn't want to be involved with opening one of the biggest and best retail sportsbooks in the country? The entire Parx team spent a great deal of time trying to figure out how to create the best retail sports betting experience for our customers and I feel that we have achieved that. And judging by the crowds that the sportsbook draws, especially on NFL Sundays, I'd say our customers agree.
To Read more click here